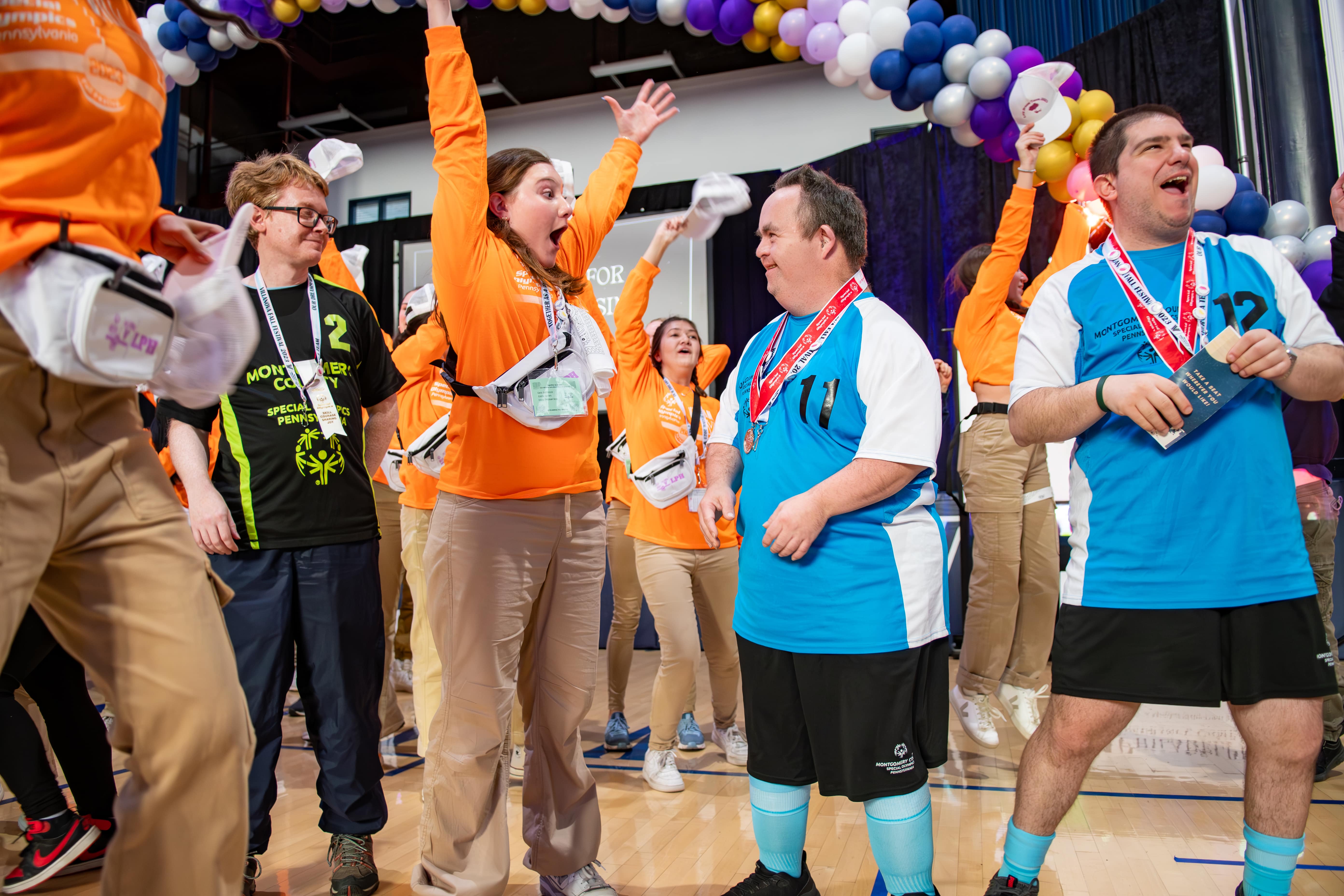 Each year during Special Olympics Pennsylvania's Fall Festival, the Philadelphia Insurance Companies Valor Award is given to an athlete whose effort, determination and sportsmanship embodies the power of the human spirit to overcome challenges and inspire greatness.
We are proud and honored to announce that MICHAEL PAULINSKI from Montgomery County is our 2023 Valor Award Winner!
Michael has been a Special Olympics athlete for more than 30 years, participating in volleyball (his favorite sport), basketball, swimming and powerlifting. Additionally, Michael is a trained Global Messenger and an amazing advocate for the disability community.
While Michael may not be an all-star athlete his coach, Kerry Leraris, says he always lends his support to the team -- through both his words and actions. From carrying uniform and medical bags, to clearing lunch trays for his teammates, to high-fiving everyone throughout a match, Michael is always eager to assist.
Both Michael's mother (Cathy) and father (Joe) were heavily involved as volunteers with Special Olympics. Unfortunately, Michael's mother passed away in 2007 and his father passed away this September. Joe was Michael's best friend. Following Joe's passing, Michael called all of his teammates and coaches individually to relay the news, further exemplifying what a family atmosphere he and his Montgomery County teammates and coaches have cultivated. Michael then worked with his sister to ensure that Joe's funeral service didn't conflict with a volleyball tournament the team was scheduled to participate in. During that tournament, Michael played two of the best games of his life in honor of his father.
Michael Paulinski truly exemplifies what it means to be a Special Olympics Pennsylvania athlete. Please help us congratulate him on this incredible honor! CONGRATULATIONS, MICHAEL!! 🤩🏆🎉