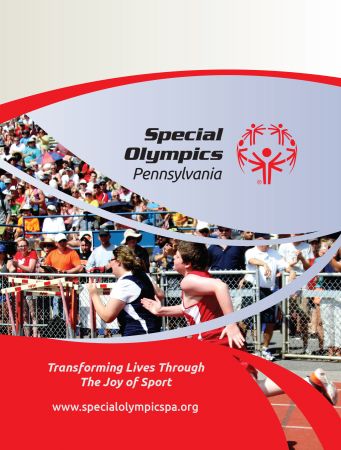 Our Mission
The mission of Special Olympics PA is to provide year-round sports training and competition in a variety of Olympic-type sports for children and adults with intellectual disabilities, giving them continuing opportunities to develop physical fitness, demonstrate courage, experience joy, and participate in a sharing of gifts, skills, and friendship with their families, other Special Olympics athletes, and the community.
All training and competition opportunities are provided free of charge to the athletes and their families, enabling everyone to experience the benefits of Special Olympics that extend well beyond the playing field.
Special Olympics was created by the Joseph P. Kennedy, Jr. Foundation. Special Olympics Pennsylvania (SOPA) is authorized and accredited by Special Olympics Inc. for the benefit of persons with intellectual disabilities.
Our History
The movement known worldwide as Special Olympics began simply as the idea of one extraordinary woman with a vision. Eunice Kennedy Shriver believed that people with intellectual disabilities were far more capable in sports and physical activities than many experts thought. And so, the world's largest amateur sports organization began in 1962 as a day camp in the backyard of Eunice and Sargent Shriver, with the first International Games taking place in 1968. Today, the movement thrives in more than 172 countries throughout the world.
Special Olympics Pennsylvania (SOPA) soon followed suit continuing Shriver's legacy in May 1970 when 135 brave athletes participated in the first official Pennsylvania event – a small track and field competition at West Chester University. Today, SOPA trains nearly 20,000 athletes who compete annually in 21 Olympic-type sports at over 300 local, sectional, and state level competitions.
For nearly 50 years, SOPA has used the power of sports to transform the lives of people with intellectual disabilities and unite everyone by fostering community and building a more acceptable and civil society. Through what has now blossomed into 55 local programs across the state, most of which are county or city-based, SOPA provides services that promote physical fitness and leadership skills development. Athlete Leadership Programs are offered to empower athletes to assume meaningful leadership roles, influence change within the Special Olympics movement, and create inclusive communities around the world. Through these programs, athletes take on roles as Global Messengers (trained as public speakers for Special Olympics), athlete representatives, coaches, board members and more.
Special Olympics also helps to address major challenges facing its athletes: obesity, healthcare and employment. Obesity is more common among individuals with Intellectual Disabilities (ID) than in the general population. Likewise, far too often persons with ID go without medical treatment, not by their choice, but because there are very few physicians, dentists, optometrists/ophthalmologists, and podiatrists that are actually trained in treating this population.
In response to these health challenges, SOPA provides free athletic training and competition year-round in Olympic-type sports for persons with ID. With sports at the core, Special Olympics directly addresses the problem of obesity by promoting healthy, active lifestyles. In addition, SOPA's Healthy Athletes® initiative, a program offering free health screenings in the form of eye, ear, dental and podiatry assessments, is provided for athletes during select statewide Games. These screenings are conducted in fun, welcoming environments, and for some athletes, are the first time they have ever seen a doctor.
Our Benefits
The Special Olympics experience fills a critical need in the lives of people with intellectual disabilities by providing opportunities for physical activity, social interaction, and the demonstration of competence to themselves, their families and the community. Athletes learn developmental and life skills as the benefits of participation translate beyond sports, helping them to live more independent and rewarding lives. Special Olympics also provides a positive venue for families, volunteers, and donors to become part of a caring community, and to become involved in the movement.