Diversity, Equity & Inclusion
Diversity, Equity & Inclusion Statement
Working to see the humanity in each person, Diversity, Equity and Inclusion are at the heart of all that we do at Special Olympics Pennsylvania as we strive to promote unity and create a world where everyone belongs.
We seek, value, celebrate and respect all differences, backgrounds and perspectives. We understand that greater diversity and inclusion creates a stronger and more innovative organization that delivers results as we work with athletes, volunteers and staff in all communities.
What is Diversity, Equity & Inclusion?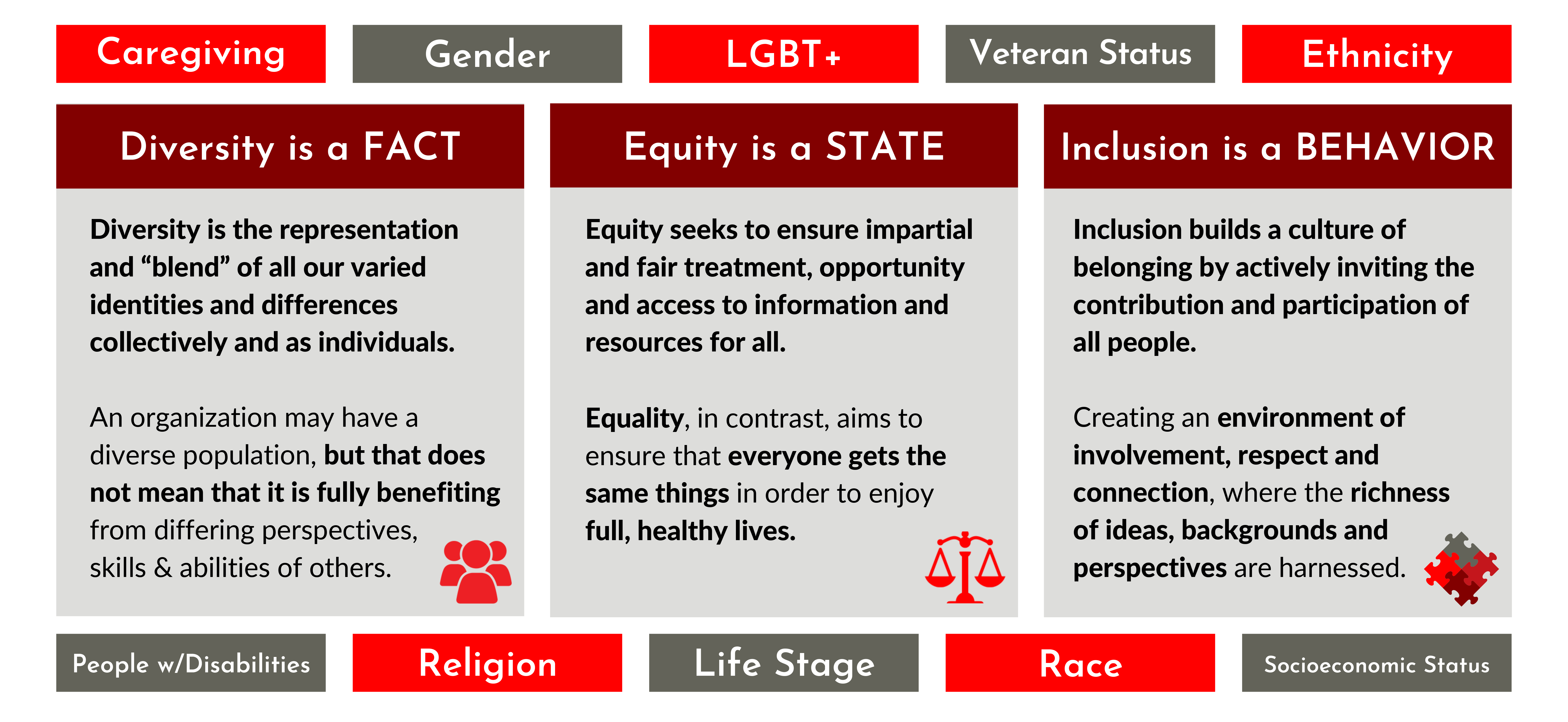 Diversity, Equity & Inclusion Policy
We strive to create a workplace that reflects the communities we serve and where everyone feels empowered to bring their full, authentic selves and can do their best work.
---
OBJECTIVES
Recruitment
Establish outreach programs to increase the pool of applicants from under-represented backgrounds

Provide training to hiring managers to mitigate potential bias and ensure that decisions are free from discrimination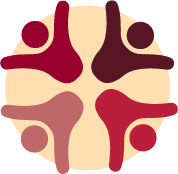 Career Development

Ensure that:
Every employee's skills, abilities and potential are fully developed and valued.

All employees have equal access to promotions and employment opportunities.

All managers receive training to ensure that employees are evaluated objectively to mitigate bias.
Work Environment
All employees are treated fairly, equitably and with respect.

The work environment is free from unlawful harassment, discrimination, and bullying or workplace violence. It serves as a space/forum to discuss feelings; foster open discussion.

There is a process for employees to submit any complaints of discrimination or harassment that is clear, easy to use, fair, and protects the confidentiality of everyone involved, without any negative consequences for the person making a complaint.

Reasonable accommodation is provided for individuals with disabilities, special needs or needs related to religious observance or practices. (Addressed on case-by-case basis depending on facts and circumstances)
Inclusion Practices
Every employee has a responsibility for respecting the dignity of all people and helping to foster an inclusive culture that is free from discrimination.
All employees actively engage in annual diversity training to raise awareness about issues surrounding diversity and identify unconscious bias that can hinder the ability to work collaboratively.

Managers role-model inclusive and respectful behavior, valuing all perspectives, and listening to diverse points of view.

Work-related social events recognize and include the needs and interests of a diverse staff.
Community Engagement
Conduct outreach to under-represented communities to increase their participation in all levels of the organization: as athletes, volunteers, coaches, donors, staff, board members, etc.

Continuous engagement processes will be employed to sustain these efforts.
Vendors & Contractors
Actively seek diverse suppliers for business needs. Solicit RFP proposals from minority, woman, veteran, service-disabled veteran-owned business enterprises, and those owned by or who employ people with intellectual or physical disabilities.
Measurement
Collect diversity data on our constituent groups: board, staff, athletes, volunteers, coaches.
Assessment
Regularly review the specific tactics employed in all areas to measure effectiveness – which tactics are working, which tactics are not working, etc.
Board of Directors Diversity, Equity & Inclusion Advisory Committee
Diversity, Equity & Inclusion is a key priority of our 2021-2024 Strategic Plan. Click here to learn more about our Strategic Plan.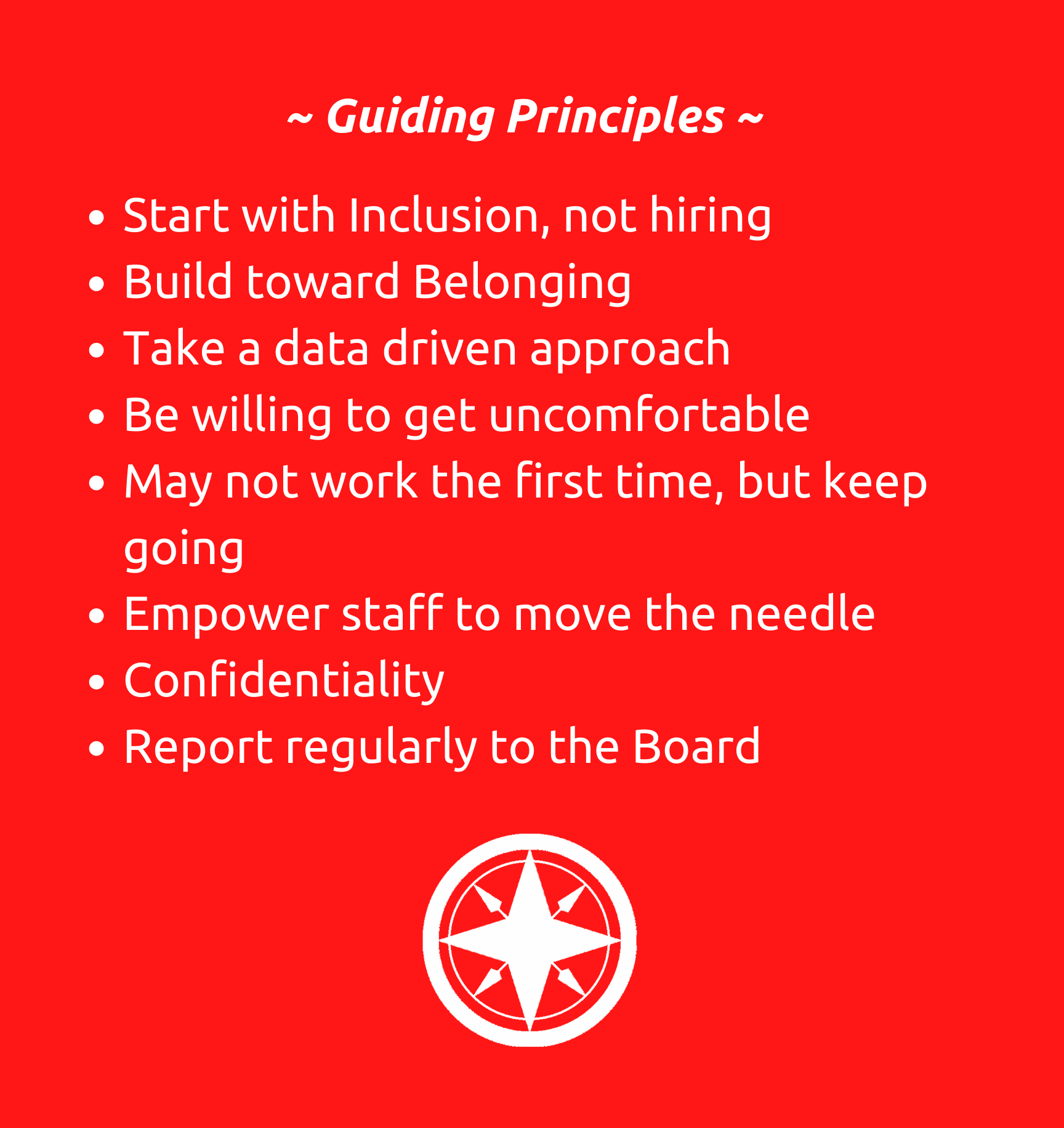 Special Olympics Pennsylvania's Diversity, Equity & Inclusion (DEI) Committee is charged with advancing productive conversations about diversity at Special Olympics and helping to ensure that ours is a community where difference is celebrated and inclusion is our guiding principle.
The DEI Committee works on behalf of and with the staff, board and community at large to heighten awareness of and attention to issues of diversity, equity and inclusion. The committee works alongside the organization to change the status quo through the introduction of policies and practices that promote equity, meaningful roles and jobs for athletes, deliver more diverse teams at all levels of the organization and create truly inclusive cultures and environments.