Unified Champion Schools

The Special Olympics Unified Champion Schools program is aimed at promoting social inclusion through intentionally planned and implemented activities affecting systems-wide change. With sports as the foundation, the three component model offers a unique combination of effective activities that equip young people with tools and training to create sports, classroom and school climates of acceptance. These are school climates where students with disabilities feel welcome and are routinely included in, and feel a part of, all activities, opportunities and functions. Check out our Unified Champion Schools One Page Snapshot.
Upcoming Events Calendar
There are three components for a school to become a Unified Champion School:
Interscholastic Unified Sports

Special Olympics Pennsylvania Interscholastic Unified Sports (IUS) is a fully-inclusive co-ed high school sports program which successfully facilitates social inclusion by bringing together a proportional number of students with and without intellectual disabilities on teams for training and competition.

Youth Leadership and Advocacy

Students with and without intellectual disabilities come together as a structured inclusive group to determine ways to improve their school's environment for everyone.
Purposes of the club are to (1) give students with intellectual disabilities a voice in their school along with their peers without disabilities; (2) help students develop leadership skills; (3) conduct youth-led activities which promote acceptance, respect, and community throughout the school.
This can be a Unified Club or expansion of an existing school group.

Whole School Engagement

Students come together to raise awareness, as well as show support for their IUS team.
Spread the Word Inclusion is a student-organized campaign which helps everyone to understand the need for inclusion and respect of each other.
Fans in the Stands: Students show support for their Unified Sports team by promoting attendance at the competition hosted by their school.
Students raise funds to help support Special Olympics PA Interscholastic Unified Sports.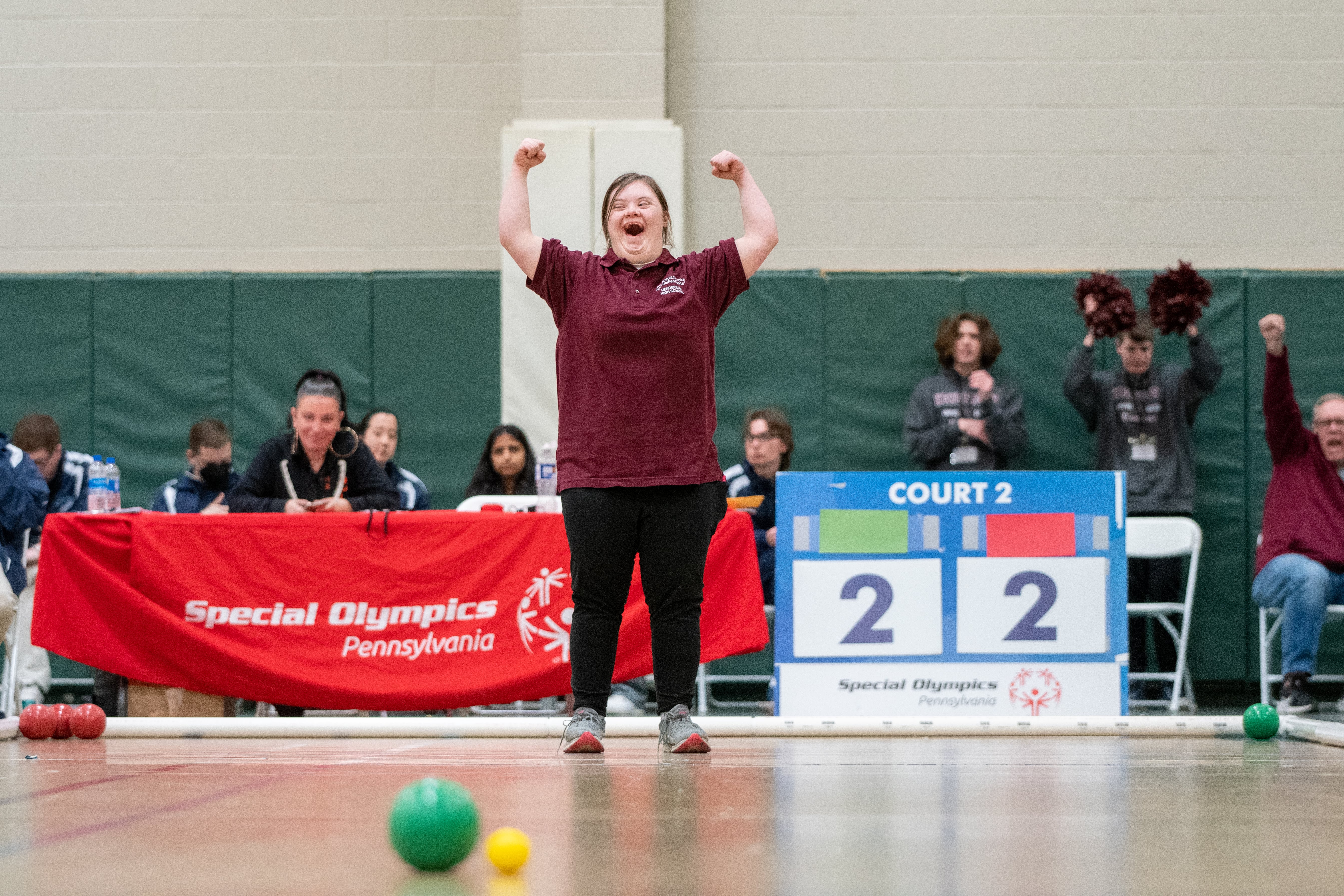 Is your school interested in the Unified Champion Schools program?
Click Here to fill out a school interest form.
National Banner Unified Champion Schools
A National Banner Unified Champion School is one that has demonstrated commitment to inclusion by meeting 10 standards of excellence. These standards were developed by a national panel of leaders from Special Olympics and the education community.
The primary activities within these standards include:
Special Olympics Unified Sports® (where students with and without disabilities train and compete as teammates), Inclusive Youth Leadership and Whole-School Engagement.

Banner Unified Champion Schools should also be able to demonstrate they are self-sustainable or have a plan in place to sustain these activities into the future.
As of 2021 Pennsylvania has 10 Unified Banner Schools. Click here to see who they are: Unified Banner School listing
Contact Us:
If you are interested in learning more about becoming a Unified Champion School please contact: Mike Bovino, Senior Advisor, at mbovino@specialolympicspa.org.
If you are a current Unified Champion School and have questions, please contact: Lauren Saulter, Unified Champion Schools Director, 610.630.9450, ext. 240 or lsaulter@specialolympicspa.org.

Impact of Unified Champion Schools:
Fosters social inclusion as students and teammates with and without disabilities become friends.
Creates school climates that promote respect, acceptance, and diversity. Students are valued for their unique talents and skills.
Reduces bullying through empowerment, awareness, and engagement while also improving health and fitness, especially for students with disabilities facing higher risks.
Develops character, life skills, and enhanced self-esteem as youth become core leaders in their school communities using Unified Sports and Spread the Word to End the Word as the catalyst for impacting change in a school climate.
Administrators and teachers take the educated risk to support the vision and insight of youth to create inclusive environments in their schools through Unified Sports and youth leadership opportunities with a clear vision of impacting school environments.
The inspiration and passion that comes from experiencing Special Olympics sports motivates young people to seek a world of unity, and then provides students with and without disabilities with the skills and opportunities to create social change.
Policymakers and education leaders develop policies and support quality practices to encourage positive school climates with safe and nurturing learning environments for all students.