Remebering our friend, Franco Harris
Special Olympics Pennsylvania is deeply saddened by the passing of our dear friend and tremendous supporter Franco Harris. His passion for uplifting Special Olympics' mission of inclusion and respect never wavered since he first got involved with our organization more than a decade ago, donating generous amounts of his time and funds to our athletes. In addition to attending local Pittsburgh events, such as the Polar Plunge, Franco championed the Paterno Family Beaver Stadium Run, a 5k race/walk in State College that raises money for people with intellectual disabilities. He served as the race's official starter since the event's inception in 2010 and was always waiting at the finish line to give every runner and walker a high five and thank them for support. Franco's humility, enthusiasm and kindness will truly be missed by all of our athletes, volunteers, staff and event participants. We send our deepest condolences to his wife Dana, his son Dok, the rest of his family, and the many around the world who loved him.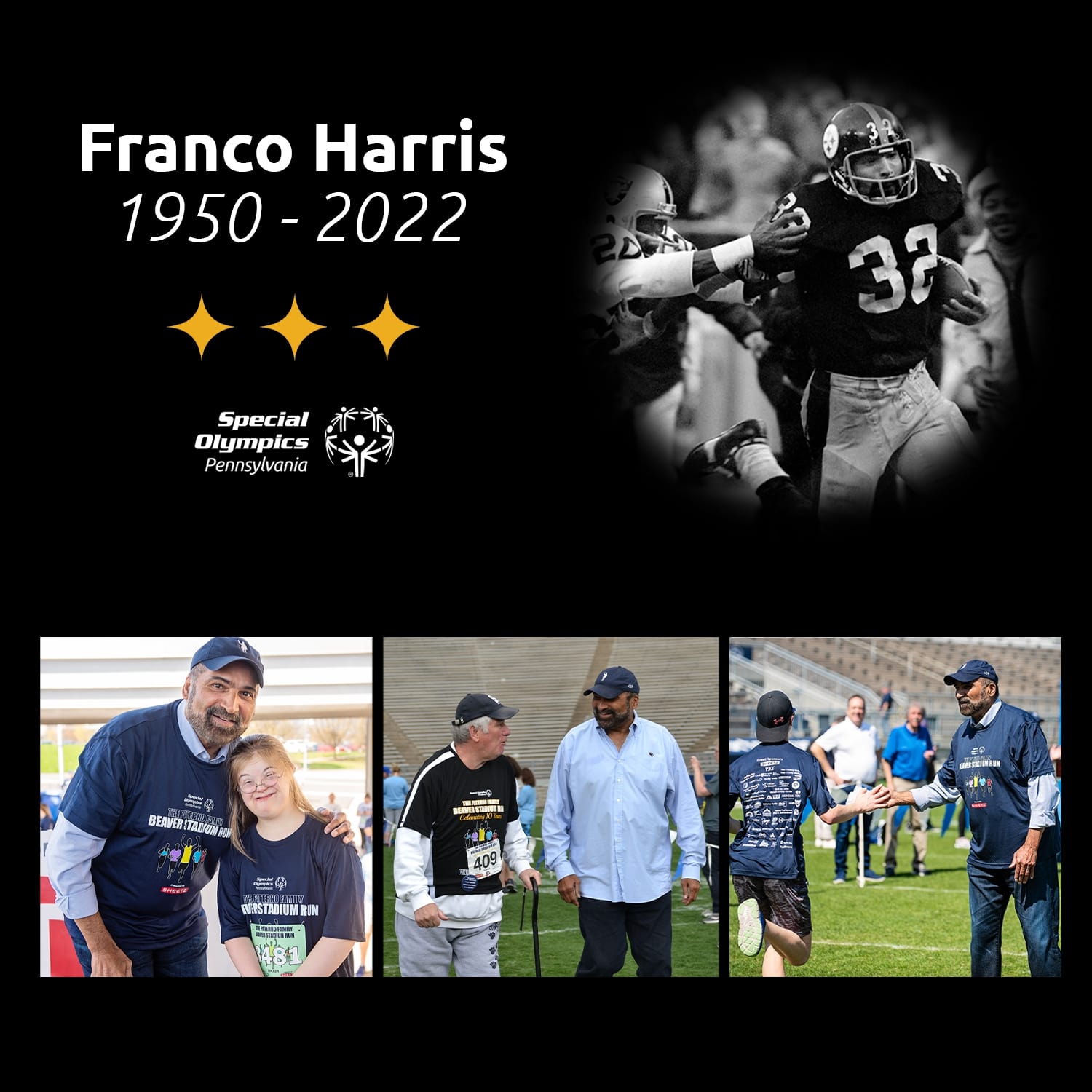 The Paterno Family Beaver Stadium Run for Special Olympics Pennsylvania (SOPA), presented by the Sheetz, is held at Penn State University during Blue-White Weekend, where more than 3,500 runners and walkers of all ages and abilities participate in a 5K run or 2-mile family fun walk. The Run begins in the vicinity of the Bryce Jordan Center on Curtin Road, moves through Penn State's scenic campus, and concludes with runners racing through the Beaver Stadium Tunnel and onto the Nittany Lions' home turf to "finish at the fifty!"
Proceeds from the Run benefit Special Olympics Pennsylvania and the 13,000 children and adults with intellectual disabilities. Make a commitment today and change a life forever! The 2023 Beaver Stadium Run is scheduled to take place on Sunday, April 16th.