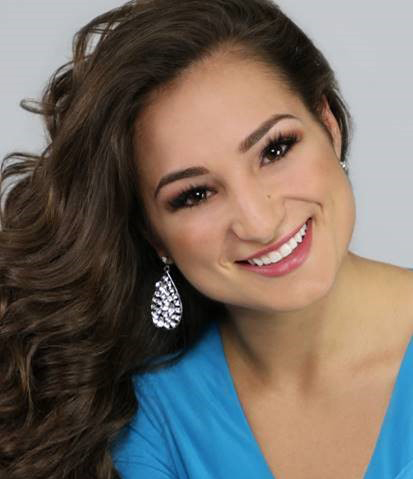 Meghan Sinisi is a native of Altoona, PA and the daughter of Tony and Lori Sinisi. She is the first woman from Altoona to serve as Miss Pennsylvania. Sinisi is a 2013 graduate of Altoona Area High School, where she was a member of the majorettes. Sinisi graduated from Syracuse University in 2017 with a Bachelor of Science in Communication Sciences and Disorders. At Syracuse, she also served as the "Orange Girl" Feature Baton Twirler for the Syracuse University Marching Band from 2013-2017, including a performance in the pregame show at Superbowl XLVIII (48) in 2014. She has been twirling since the age of three and currently assists as a baton twirling instructor for Debbie Bernhart at Carol's School of Baton in Altoona. Sinisi graduated with a Master of Health Science in Speech, Language and Hearing Sciences from the University of Missouri in May of 2021. She is a Speech-Language Pathologist who aspires to provide early interventions for children with speech, language, and communication delays and disorders. Sinisi hopes to one day own and operate an interdisciplinary therapy clinic.
Sinisi's mission as Miss Pennsylvania is to inspire autism appreciation through her social impact initiative and 501(c)(3) nonprofit organization, "From a New Perspective". Sinisi has been championing this cause for nearly a decade, inspired by an encounter she had as a senior in high school. Sinisi had an opportunity to spend time with students in a life skills classroom and walked away realizing how little she had been taught about the people behind the "autism" label, or how to actively accommodate for their needs. This experience helped Sinisi recognize where there were opportunities for public schools and other environments to become more inclusive for students in special education. This eventually led her to pursue a career as a speech language pathologist and motivated her to get involved in the Miss America Organization.
Sinisi's approach to advocacy emphasizes acceptance, respect, and empowerment for autistic people. A priority of hers is to work with neurodivergent communities in order to amplify their voices and ignite change for inclusion. She has developed educational activities, tools, and resources that encourage people of all ages to be ambassadors for autism acceptance in their communities. These tools include a weekly podcast series titled "Spectrum Sundays'', an "Acceptance Ambassador" pledge, school visits, and autism training for students and professionals. Through her nonprofit, she hopes to fund the installation of sensory equipment in public spaces in order for families to make community events more accessible for children on the spectrum. She also hopes to establish an educational scholarship fund for students interested in pursuing higher education.
In addition to her social impact initiative, Sinisi will focus on increasing participation and building upon the legacy of the Miss PA Scholarship Foundation, Inc. She will spend her year collaborating with and recognizing local titleholders, directors, volunteers, and forever Miss Pennsylvanias for their important contributions to the program. Sinisi will be a brand ambassador for state-wide and nationally known corporate partners. She will serve as a role model to people of all ages and support a variety of community organizations and causes across Pennsylvania.
Sinisi is thrilled and honored to represent the Keystone State at the 100th Anniversary Miss America Competition in December at the Mohegan Sun Casino & Resort in Uncasville, CT.