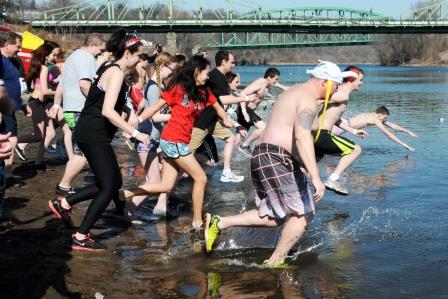 #LehighPlunge
On behalf of our Special Olympics PA athletes, thank you so much for your heroic efforts as a Lehigh Valley Polar Plunger! 606 plungers raised close to $88,000! Amazing! But, we still have some work to do to reach our goal of $97,500, so let's keep the momentum going!
Raise a total of $250 or more and your name will be entered into drawing to be bumped up to your next incentive level! 3 winners will be drawn!
We'll continue to collect donations through March 11, at which time fund-raising totals will be tallied. Donate Online.
Click here to view event photos.
---
Check Out Our Media Coverage:
Lehigh Valley Live – 2/16/19
Jump in the Delaware River in February? Sure, say 100s at Special Olympics Polar Plunge (VIDEO)
69 News – 2/17/19
2019 Polar Bear Plunge raises money for good cause
The Lehigh Valley Ledger – 2/17/19
The 2019 Lehigh Valley Polar Plunge – Photos By: Michael Hujsa
The Morning Call – 2/19/19
PICTURES: Polar Plunge in Easton