Every two years, thousands of Special Olympics athletes worldwide come together to showcase their athletic skills and celebrate the spirit of Special Olympics in alternating World Summer and World Winter Games. The first Special Olympics World Games took place in 1968 and since then have evolved into a world-class sporting event similar in size and scope to the Olympic Games, attracting a wide range of sponsors, supporters and media.
Following the Olympic ideals, Special Olympics World Games are abundant in tradition. All World Games feature Opening and Closing Ceremonies, a Torch Run public awareness event prior to the Games, cultural activities, and world-class sports competition.
MINIMAL WORLD GAMES ATHLETE EXPECTATIONS:
---
Statement on Special Olympics World Winter Games in Kazan
With sadness, disappointment, and deep frustration, Special Olympics International announced that we will not be holding the World Winter Games in Kazan, Russia, which had been scheduled to begin on 21 January 2023.
For more than a half century, Special Olympics athletes, volunteers, families, and colleagues have been a nonpolitical, non-partisan force for the dignity, joy, and inclusion of people with intellectual disabilities around the world. In that spirit, our movement has been brought to life in communities in more than 190 countries. Our philosophy has been simple: we want to work with countries, cities, villages, communities, schools, and clubs around the world that want to join our movement to improve respect, opportunity, and voice for people with intellectual disabilities and their friends and families. Our only limitation is our capacity to protect the effectiveness and independence of our organization and the safety of our athletes and community.
We can no longer ensure the effectiveness of the World Winter Games in Kazan or the safety of our athletes and community. The horrific violence in Ukraine, the extensive sanctions implemented by the international community, and the uncertainty and fear being experienced around the world make it impossible to proceed. We are devastated by the fear and destruction being experienced by our athletes and community in Ukraine. Persons with an intellectual disability are suffering disproportionately, unfairly, and tragically in this war, as they have during the pandemic. We join our voices to millions around the world demanding peace and an end to violence immediately.
This cancellation is devastating to us, to our athletes in Ukraine, to our athletes in Russia, and to our athletes around the world who have trained for years to compete. We are grateful to people of good will within Russia and around the world who worked for years to make these Games a success and while the Games will not take place, we commit ourselves to continue working with the Special Olympics Program there now and in the future.
We remain resolute in our commitment to our athletes irrespective of political, national or other boundaries. We are a community of people who are unwilling to stop at anything to create a worldwide movement of inclusion with our athletes leading by word, by vision, and by example. We will stay focused on that mission in new and even more powerful ways in the days, months, and years ahead.
---
2023 Winter World Games Selected Athletes:
Special Olympics Pennsylvania's 2019 Winter Games and 2019 Indoor Winter Games served as the qualifying events for the 2023 World Winter Games.
Seven athletes were selected from Pennsylvania to participate in Special Olympics USA Team Trials for the opportunity to compete at the World Games during our 5th Annual Philadelphia Polar Plunge on December 6th.

Brooks Trimble, Lancaster County – Alpine Skiing (Novice)
Ricky Eutzy, Area M – Alpine Skiing (Advanced)
Lydia Wert, Beaver County – Alpine Skiing (Novice)
Robert "Bobby" Snively, Blair County – Speed Skating 2
Morae Ford, Erie – Cross Country Skiing 2
Justin Grimley, Chester County – Snowshoeing 3
Lisa Robinson, Chester County – Speed Skating 1
2023 World Games Selected Coaches & Staff:
Coaches:
Amanda Katelozus, Area M – Speed Skating Assistant Coach

Lester Loner, Lycoming – Snowshoe Assistant Coach

Kristie Reid, Allegheny – Alpine Assistant Coach
Staff:
Lauren Saulter,

UCS Manager – Assistant Sport Manager for Speed and Figure Skating
---
World Games Berlin 2023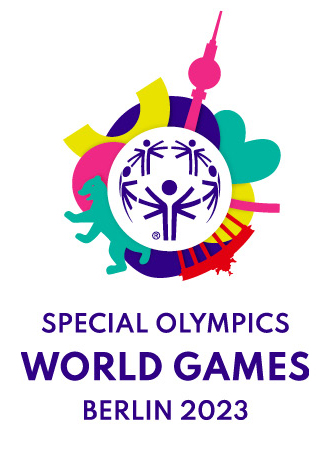 The Special Olympics World Games offer the opportunity to unite the world like no other event can. Here people with and without disabilities, people of different nations, cultures, political views and religions meet and can overcome existing prejudices with the power of sport.
From 17 – 25 June 2023, Berlin, Germany will welcome 7,000 Special Olympics athletes and Unified partners from approximately 170 countries to compete in 24 sports. The athletes will be supported by more than 3,000 coaches and 20,000 volunteers.
Click here for more information.
---
2023 Berlin World Games Sports Manager and Coach Application
All applicants will need to be able to participate in:

U.S. Selection Camp – September TBD

2023 Berlin World Games- June 17-24. (Plus an additional 3-4 days before the beginning of the event.)

On-going meetings

U.S. Program CEO Approval and Head of Sport Approval

The SO U.S.A. Coach requirements are attached to this email. The application can be found here.