Fall Festival 2022 will take place from November 4th - 6th
Thousands of athletes, coaches, families, and friends representing all corners of Pennsylvania participate in Special Olympics Pennsylvania's (SOPA) 34th Fall Festival at Villanova University. The event is hosted and organized by Villanova University students and is the largest annual student-run Special Olympics event in the world. Fall Festival brings together more than 1,200 athletes and coaches. Competition in bocce, flag football, long distance running/walking, powerlifting, roller skating, soccer, and volleyball highlight the three day event. Weeks of hard work and dedication in training is rewarded as athletes are cheered on and supported during competition by more than 3,000 enthusiastic volunteers.
Fall Fest 2022 Videos & Newsletters:
Each newsletter and video will contain recipes, healthy habits, fun facts, committee messges, activities and more!
---
An Unforgettable Weekend: Fall Festival 2021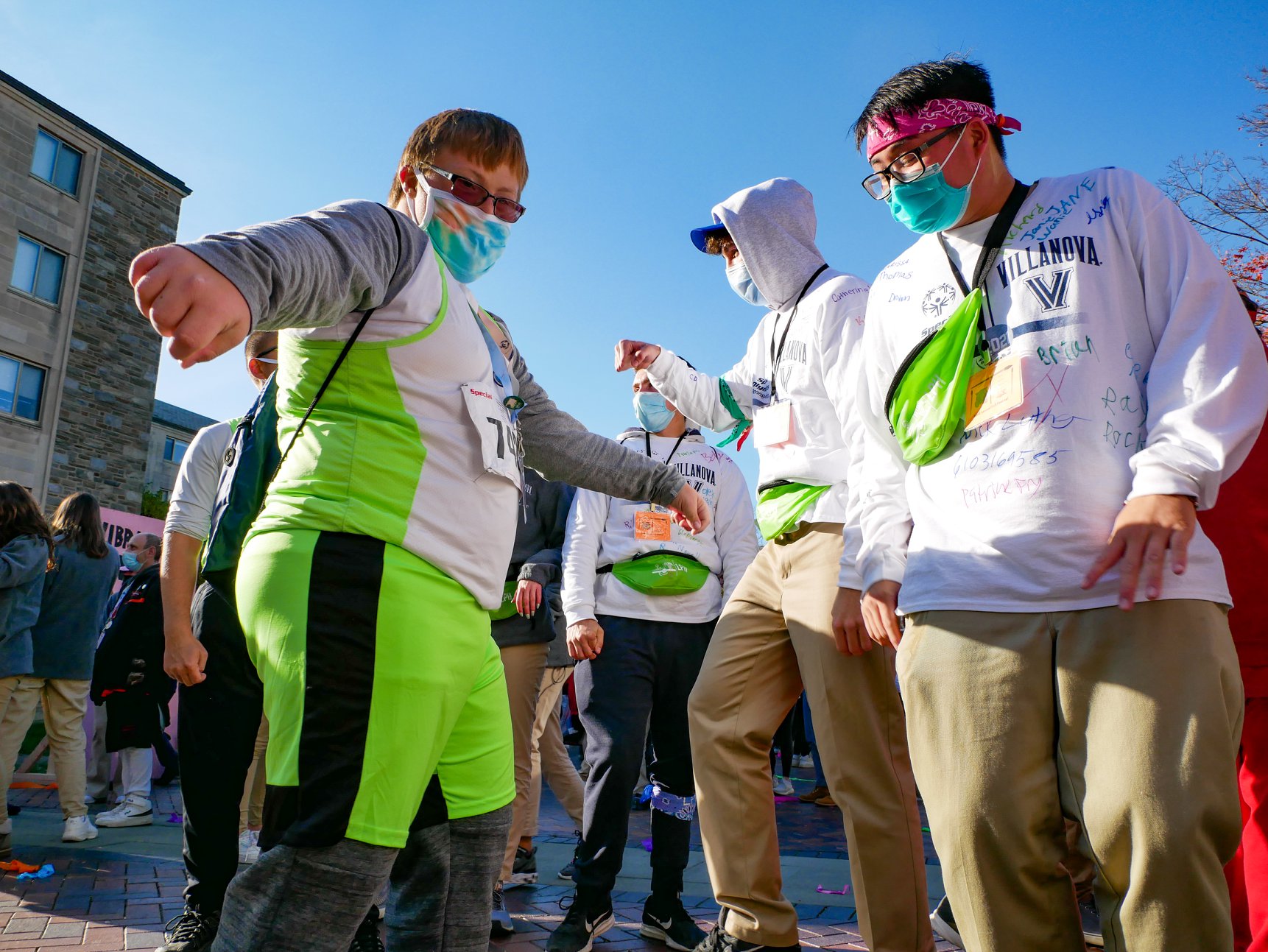 Congratulations to all of the athletes and volunteers on a absolutely unforgettable Fall Festival weekend, hosted and organized by Villanova University!
We were overwhelmed and overjoyed by the intense competition, reunited friendships and incredible atmosphere of INCLUSION that we all experienced at Villanova.
Our athletes did a great job competing in a total of six Olympic-type sports including bocce, long distance running, powerlifting, roller skating, soccer and volleyball. Take a look at the below video from Villanova Special Olympics to see a recap of the best weekend in more than a year!

Click here to view hundreds of Fall Festival pictures!
---
Chloe Phillips Wins Philadelphia Insurance Award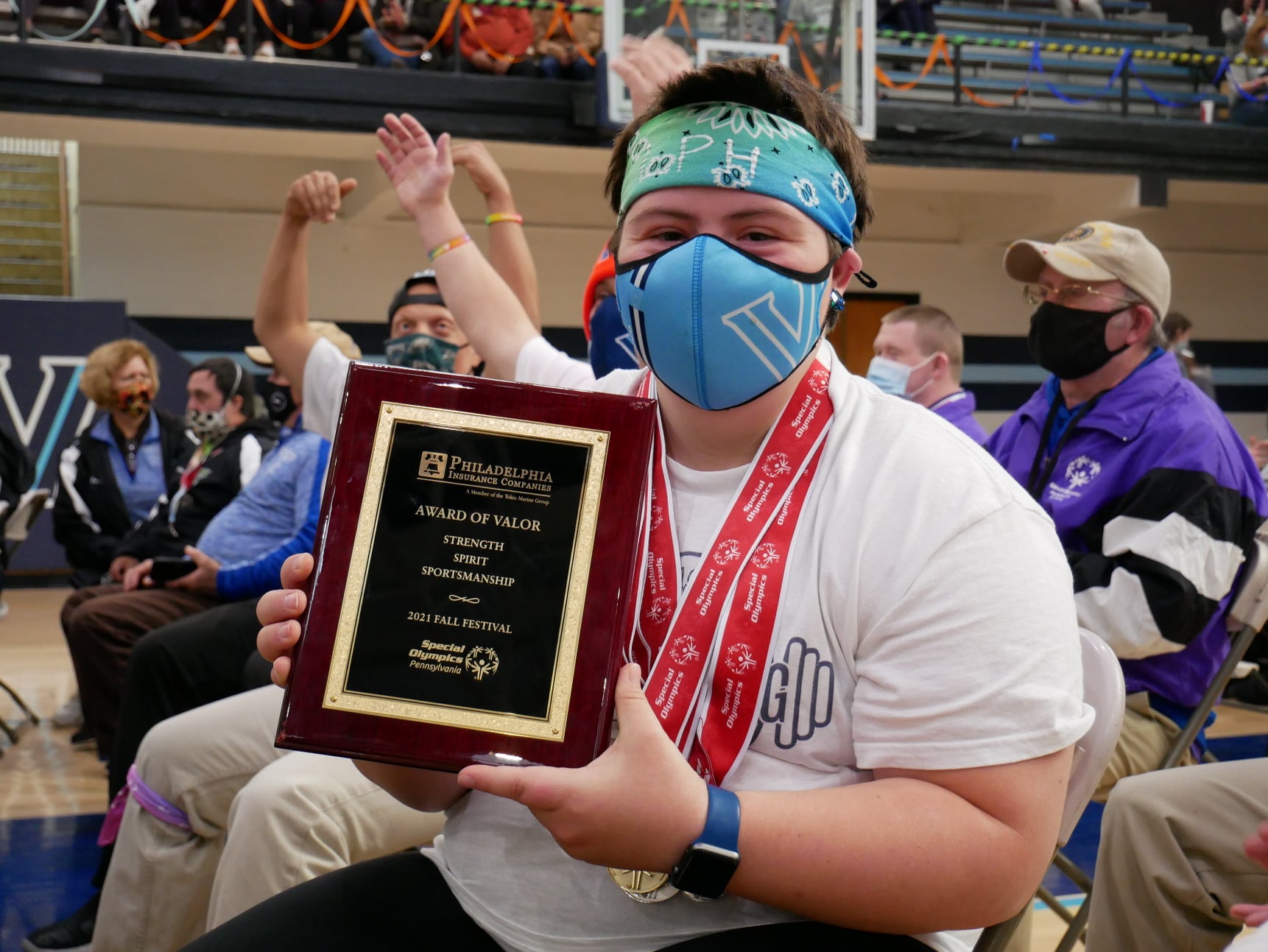 Each year at Fall Festival one deserving athlete receives The Award of Valor, presented by Philadelphia Insurance Companies. This year we are honored to announce that CHOLE PHILLIPS from Lancaster County is the 2021 award recipient!
The Philadelphia Insurance Companies Valor Award is given to an athlete whose determination and effort can only be understood by the power of the human spirit to overcome obstacles and inspire greatness. It distinguishes athletes who may not win, but whose courage, sportsmanship, effort and determination is award winning.
Phillips is a powerlifting athlete who has participated in every virtual fitness heptathlon that SOPA offered when in-person practices and competition were not being conducted. She purchased a bench, bar and weights to keep working on her personal goals when fitness centers were closed due to the pandemic; and, hired a personal trainer when they opened back up. Additionally, as a Special Olympics Health & Fitness Coordinator, she takes what she has learned and uses it to motivate her peers.
Outside of Special Olympics, Phillips has been leading a weekly fitness group for children with Down syndrome and co-leads a fitness class for adults with Down syndrome. She often recites motivational posters hanging in her room, challenges herself to do "just one more rep," and has started studying to become a personal trainer.
---