Special Olympics Pennsylvania's Fall Festival is hosted and organized by Villanova University students and is the largest annual student-run Special Olympics event in the world. For one weekend each year, Villanova University opens its campus up to more than 1,000 athletes and coaches, and 6,000 volunteers from the Villanova Student Body, surrounding community, and corporations. Athletes compete in a total of six Olympic-type sports including bocce, long distance running, powerlifting, roller skating, soccer and volleyball.
Fall Festival 2019 will take place from November 1st – 3rd.
---
Fall Festival 2018 Recap
Congratulations to the athletes that participated in our 30th Annual Fall Festival! Thanks are extended to the Villanova University community, our event volunteers, and valued sponsors for an exceptional weekend full of fun and friendship.
Opening Ceremonies this year featured a special Unified basketball game between the Villanova Wildcats and Special Olympics PA athletes! Thank you to Villanova Men's Basketball, Coach Jay Wright, and special guest Michele Steele from ESPN for an unforgettable night.

Watch the full Unified basketball game (and dunk contest!) with our athletes and the defending-champion. There was no better way to kick off our 30th annual Fall Festival!
In addition to sports competition, Fall Festival offered Healthy Athlete screenings, an Olympic Town with games, music and fun, a Victory Dance and Closing Ceremonies.
Use the hashtags #SOPAFallFest and #NovaSpO to share your Fall Festival experiences on social media! Check out our Facebook event page.
Check out Articles from The Villanovan:
2018 Philadelphia Insurance Award of Valor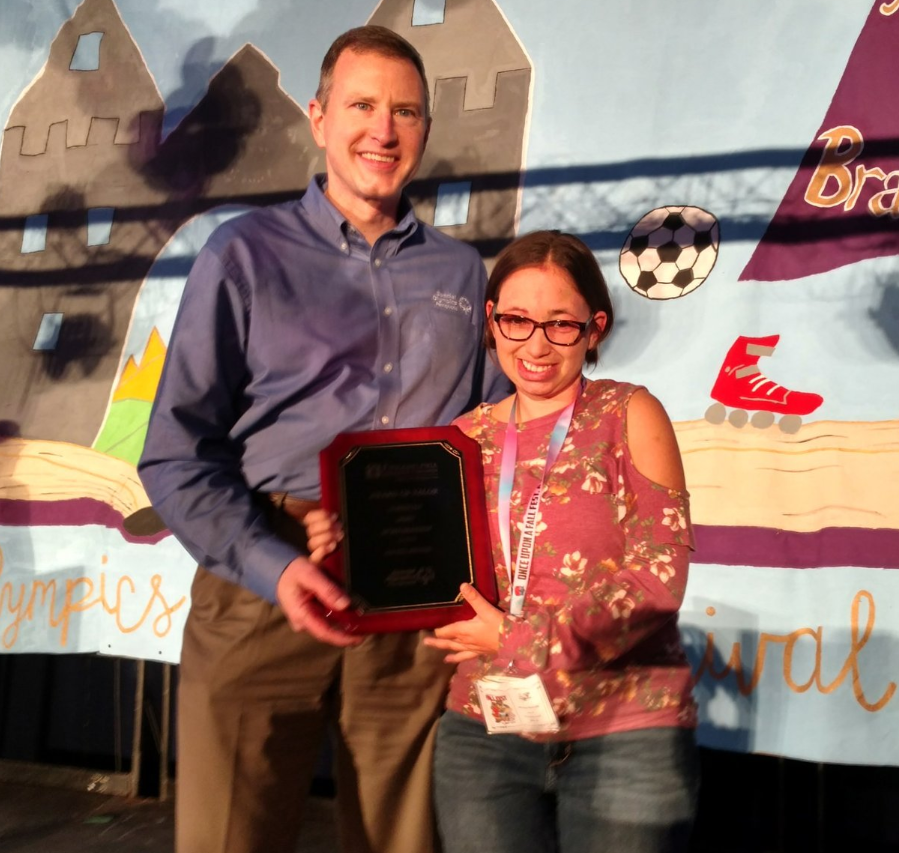 Congratulations to Nicole Hoover from Area M for winning the 2018 Philadelphia Insurance Award of Valor during the Fall Festival Victory Dance on November 3rd. Nicole is pictured at left with Special Olympics Pennsylvania's President and CEO Matt Aaron.
The Fall Festival Achievement Award, presented by Philadelphia Insurance, recognizes the athlete who may not necessarily win a medal at the Festival, but their effort, determination and sportsmanship is award-winning and inspirational.
At the age of 6 months Nicole was diagnosed with a rare condition that affects her skin, eyes, and causes seizures and learning disabilities. But, this condition has not stopped her from competing on the soccer field. She has overcome her disabilities by working hard, hustling, and listening to her coaches. Nicole also looks forward to attending the fall games every year and wants to win, but more importantly, she looks forward to the fun she has with her teammates and the competition.
She is the first to help a teammate or competitor off of the ground, and she never feels sorry for herself. Nicole doesn't blame her poor eyesight if she misses the ball; she just keeps on trying to kick the ball! Her determination, sportsmanship and comradery are award-winning.