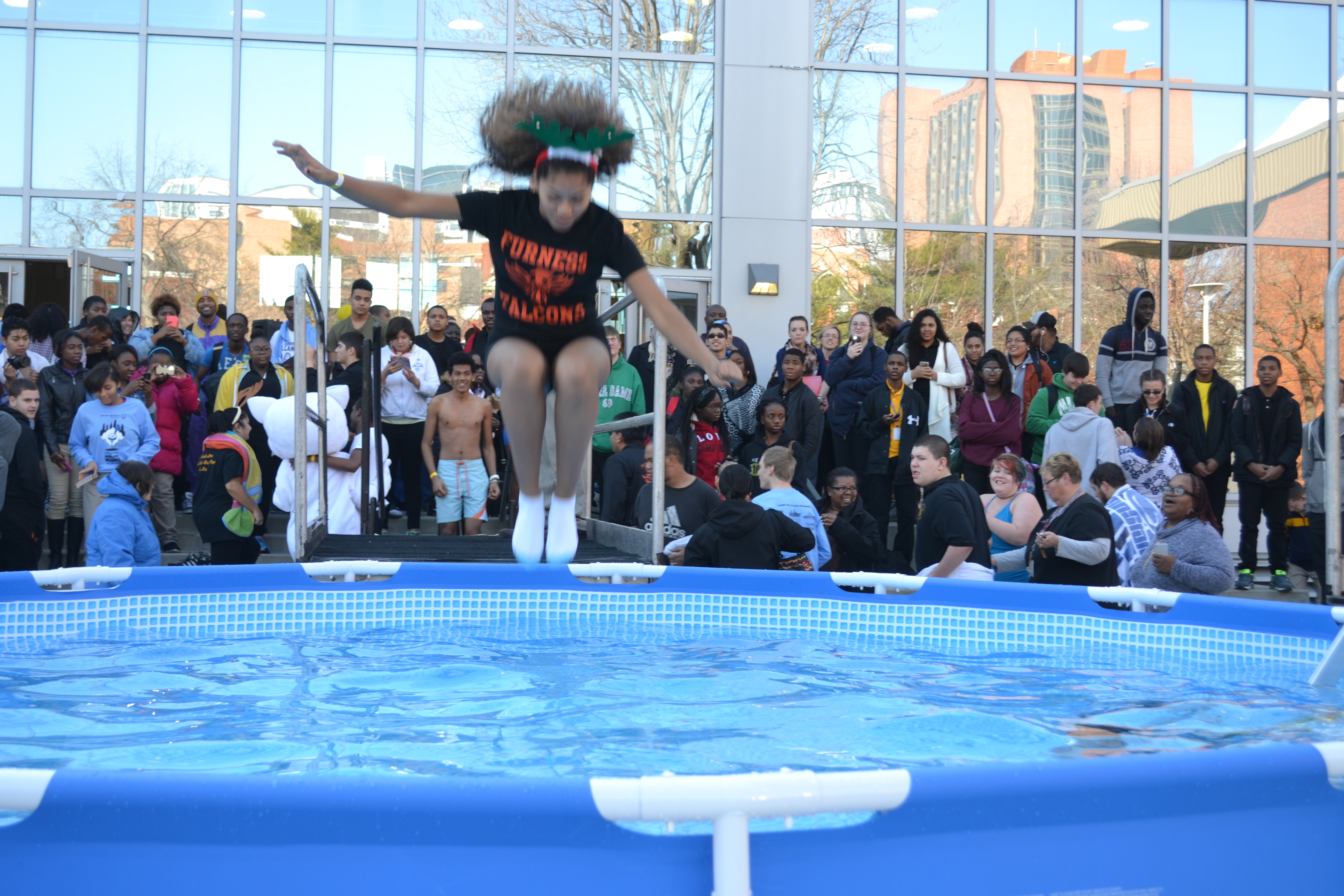 The 2017 Philadelphia Polar Plunge will be held on Friday, December 1st. #PhillyPlunge
---
The second annual Philadelphia Polar Plunge took place on Friday, December 2, 2016 outside of Drexel University's Fitness Plaza. A total of four plunges were held on this day: A "Cool Schools Plunge" for high schools participating in Special Olympics PA's Interscholastic Unified Sports program from 10:00 am to12:00 pm, a "Business Plunge" for business executives from 12:00 pm to 2:00 pm, a General Public Plunge from 5:00 pm to 7:00 pm., and a "University Plunge" for individuals affiliated with a college or university from 7:00 pm to 9:00 pm. Throughout the day, nearly 500 plungers helped to raise $100,000 for Special Olympics and were "Freezin' for a Reason!"
Several special guests were also present to either take the plunge or serve as speakers. They included Charlie Manuel, senior advisor for the Philadelphia Phillies; 94WIP personalities Hollis Thomas, Spike Eskin and Joe Conklin; WAMP 96.5 AMP Radio Morning On-Air Host, Rebekah Maroun (Bex); television personalities Pat Gallen from CBS Philly and Sarah Baicker from CSN Philly's Breakfast on the Broad; and various mascots.
During the Plunge, participants could heat up indoors by participating in a Unified Sports Experience playing recreational bocce and volleyball with Special Olympics athletes. While waiting to plunge, participants could snap pictures at the plunge photo booth, take photos with the official Philadelphia Plunge Polar Bear "Chilladelphia," and tag their photos using #PhillyPlunge and #Chilladelphia.
In addition, the Philadelphia Zoo gave a presentation to high school students during the Cool Schools plunge portion on global warming, polar bears and the impact the students have on the environment. Students at the Plunge not only learned about a polar bear's environment and how it is changing, but also how they can take a role in changing their school environment to be more inclusive to students with intellectual disabilities.
The 2016 Philadelphia Polar Plunge event sponsors include Law Enforcement Torch Run for Special Olympics PA, Aerotek, Harmelin Media, GEICO, Comcast SportsNet, CBS Philly, Pitt Ohio, Morgan Lewis, PECO, Health Partners Plans, New Pace, and Drexel University Recreation.
Click here to view event photos!