Unified Fall Fest Torch Run
The Unified Fall Festival Torch Run for Special Olympics Pennsylvania (SOPA) is a segmented non-competitive run (approx. 26 miles in total) with 18 segments ranging from a ½ mile to 3 ½ miles. The Unified Fall Festival Torch Run kicks off from XFINITY Live! Philadelphia before weaving its way throughout South and Downtown Philadelphia and into University City/West Philadelphia to the Philadelphia Art Museum. After traversing nearly 13 miles of the city, the run heads West via MLK Boulevard/West River Drive into Bala Cynwyd and through the heart of the Main Line to Villanova. All proceeds benefit SOPA and the largest student run Special Olympics event in the world, the annual Fall Festival at Villanova University.
For more information about the 2018 Unified Fall Festival Torch Run please contact: Demika Poole, Director of Special Events – E-mail: dpoole@specialolympicspa.org ● Phone: (610) 630-9450 ext. 226 ● Fax: (610) 630-9456
Unified Fall Festival Torch Run 2018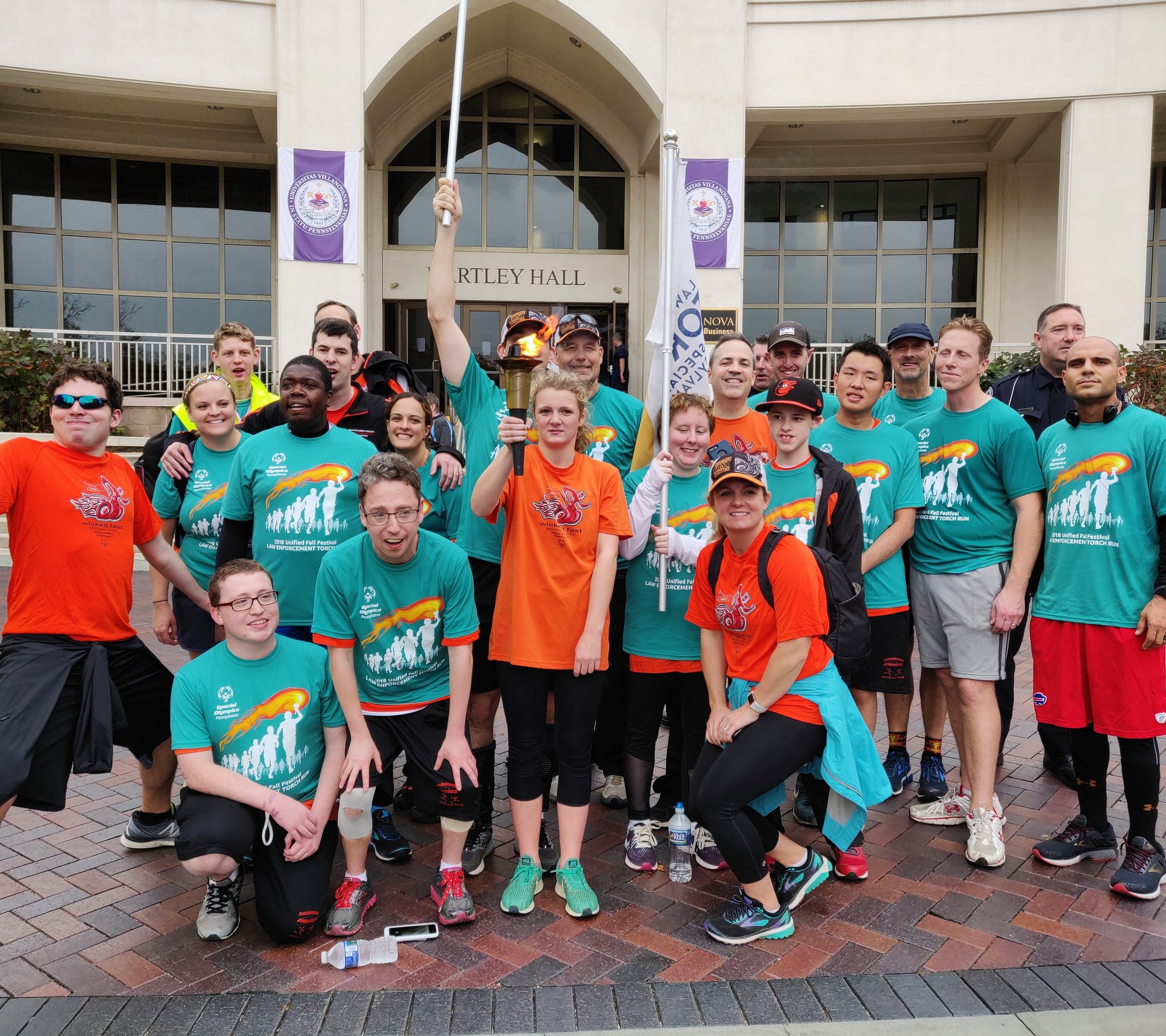 We can't thank our law enforcement officers enough for their continued support and participation in our Unified Fall Festival Torch Run!
The Unified Run kick-offed from XFINITY Live! Philadelphia on Friday, November 2nd and officially ended when the Flame of Hope arrived at Villanova University to light the cauldron, symbolizing the start of our 30th Annual Fall Festival.
The Run was led by members of the Philadelphia Police Department and other local law enforcement partners and included Special Olympics PA athletes, unified student partners, event sponsors, political supporters, civic leaders and many other members of Philadelphia and the surrounding community. The event served as a run in memory of fallen officers from across the state and enabled participants to remember in a profound way our law enforcement friends in Pittsburgh.