Volunteers are the backbone of Special Olympics Pennsylvania. Without our volunteers, we'd never be able to provide competition, leadership, health and so many other opportunities to people with intellectual and developmental disabilities throughout Pennsylvania.
Congratulations to Karrin Unger, Crawford County, for being named our Volunteer of the Month for July 2023!
Karrin began her Special Olympics Pennsylvania journey in 1972 and, with the help of the late Jack Stover, formed the program in Crawford County. Karrin collaborated with Eunice Kennedy Shriver to build the first training manuals for Special Olympics Pennsylvania and worked for SOPA headquarters before moving back to a volunteer role.
We took a minute to catch up with Karrin about her time with Special Olympics, how things have changed over the years and why she's so dedicated to the mission. Congratulations, Karrin, on this well-deserved award!
"When we had our 50 year anniversary, I thought to myself, 'Holy moly, has it been that long?' Most of us had the opportunity to meet Eunice Kennedy Shriver and work with her. I'll tell ya what, she was a task master, but we developed the first training manuals. Al Senavitis, Hank Goodwin, we were really close friends. There were a lot of great people there. At the time Sheetz was a little Mom & Pop gas station in Bellefonte, Pa. They ended up sponsoring our lunches and from there they jumped in hook, line and sinker. Every year since they've been heavily involved with Special Olympics.
We were Special Education teachers and back then we were lucky to get the Superintendent's stamp of approval to start a Special Olympics program. I heard Frank Dean speak at a conference on Special Education and after we talked, it was a great fit. We started with 800-900 students. And after we got the students involved, more and more teachers and more and more parents became involved. It all started because of our backgrounds of our chosen profession. We were able to help with the groundwork and then, when we see where it is now, it's incredible 50 years later it's still up and going. It's just incredible for people like myself.
We had a lot of fun getting everything together. We got to know everybody and learn from everybody and we shared a lot. Between Jack [Stover] and myself and a couple other volunteers, we spent a lot of nights on the floor with blue 3×5 cards, organizing everything so it would go smoothly. I think one of the biggest highlights, other than the meets – they were so much fun – was that everybody had such a good time. At the top of the list was watching the athletes develop [their skills] and developing relationships with them.
Even now I'll see an athlete on the street and they'll go, "Hey, Ms. Karrin," and we'll stand there and talk. One of my athletes from the beginning was an ice skater who won a gold medal. A couple months ago, she was on the street and then she ended up living with me for four months. It's just what people do. The relationships are incredible, especially as I'm getting older.
We didn't realize the impact that we'd have. I've been helping with food at the [Crawford] Track & Field Meet the last couple years. It was fun, but it was also time for me to step back. There comes a time when you just have to step back and let the young blood take over. And most of us realize that.
I'll always think it's a wonderful program. On my wall in my home I have a quilt that covers the whole wall. It's made out of shirts from our meets through the years. It's something that – if the house coaches on fire – you'll grab it."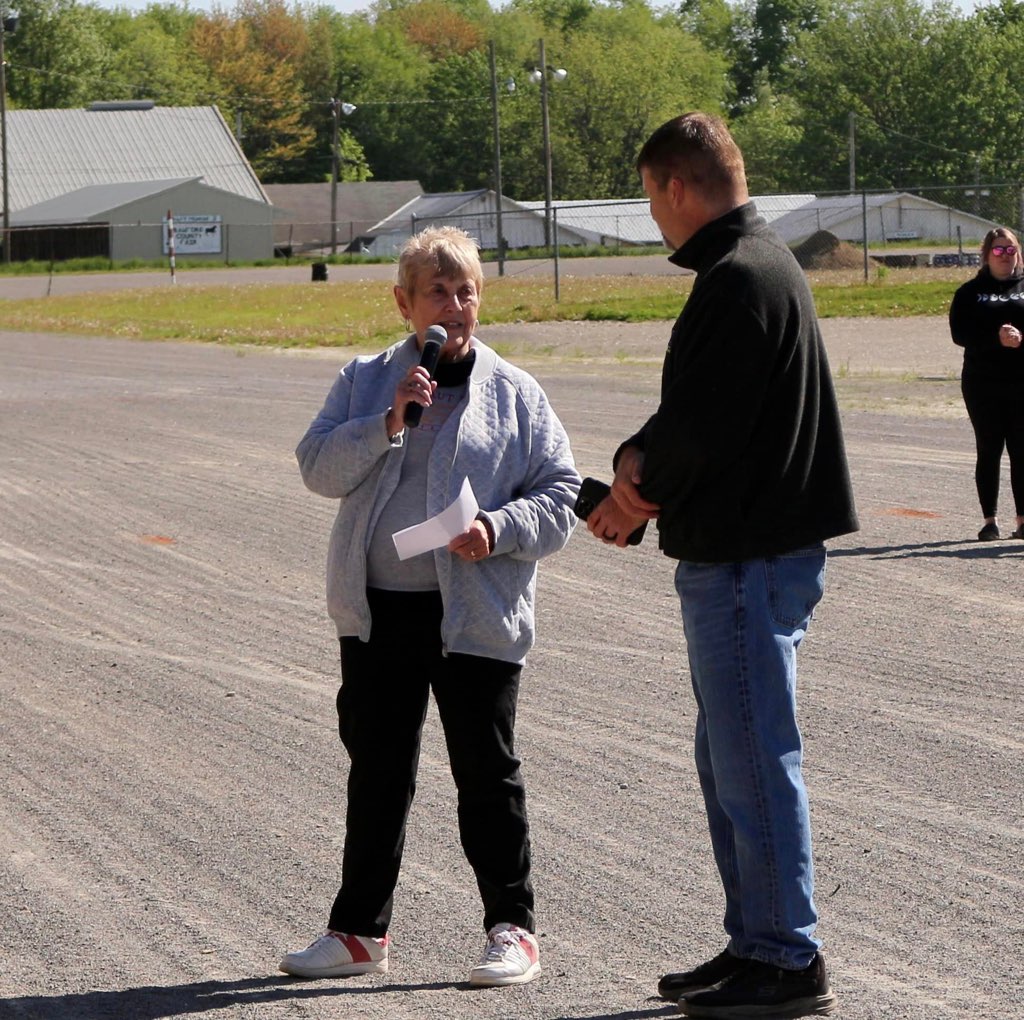 Karrin was nominated by Cathy Davis, who had this to say about our latest Volunteer of the Month:
Crawford County Special Olympics first track & field meet was in May 1974 in the Penncrest School District organized by Karrin Unger for her students Saegertown. After 10 years as a special education teacher, Karrin was promoted to Special Education Supervisor and it is in this role that she with the help of Jack Stover and BJ Scarpino expanded the scope of Special Olympics to include Crawford Central School District and Vallonia Industries. What began as a one school track and field meet flourished into Special Olympics Pennsylvania Crawford County. This meet today includes schools from Crawford & Venango Counties, Erie City and several adult agencies throughout Crawford County.

Karrin has also done so much to support Crawford County Special Olympics, she owned Park Golf Course in Conneaut Lake, PA. She held golf outings for us, donating the golf course, getting the food, t shirts for volunteers and golfers and raffle prizes donated. All money raised was donated to Special Olympics. Karrin was also on the Board Of Directors but I don't remember how long ago or for how long.

-Cathy Davis