Volunteers are the backbone of Special Olympics Pennsylvania. Without our volunteers, we'd never be able to provide competition, leadership, health and so many other opportunities to people with intellectual and developmental disabilities throughout Pennsylvania.
Congratulations to Coach Tom Delaney, Bucks County, for being named our Volunteer of the Month for May 2023!
Tom started his journey working with the disability community while in high school as a volunteer for Big Brother. While pursuing his degree in Special Education, he volunteered for soccer and swimming at his local Special Olympics program. After graduating in the mid-1980s, Tom accepted a teaching job in Bristol Township, where he still works as a Life Skills teacher 38 years later. Tom currently coaches Athletics, Long-Distance Running/Walking in Bucks County and Unified Track & Field at Truman High School. In addition to Special Olympics programming, Tom also takes his runners to participate in events like the Broad Street Run, Rocky Run and other local races and invitationals.
We took a minute to catch up with Tom about his time with Special Olympics, his passion for running, his family, friends and so much more. Congratulations Tom on this well-deserved award!
"It's nice running with athletes and practicing with them, doing stuff with them, getting to know them. And seeing who can beat who. I go running every Sunday and every week all of the athletes I coach are welcome to join me. And every week, there are people who come and run with me. It's nice knowing that every week I'm there, there's always someone to run with.
Then we just get to talking to each other. Sometimes five of us, sometimes 10. But we always push each other and I get to know everyone so much better. We do what we love.
I see the same athletes all year round. We go right on from one sport to the next, and it's great getting to see everyone grow up and seeing what they can accomplish.
My biggest advice to coaches is: BE ORGANIZED. Everything's on the computer. I know what every athlete ran or threw, their times, etc. The next week when they come to practice, they'll have a printout of the last four weeks so they can watch their progress as the season goes on. That way they know what's going on and we can set goals. I feel like I can spend more time coaching if I'm organized when I get to practice. I make sure everything is done ahead of time.
I've grown a lot. I've grown to know all the parents and a lot of them have come out and become coaches with me. They're always there for me if I need anything and it's nice becoming a bigger family. Without them, this would all fall apart.
It's nice going to different state events or even National Games and seeing people I don't see all the time. I still keep in touch with everyone from Seattle or Florida or New Jersey. It's a family, and I think that helps a lot.
I've enjoyed following in my mentor Lynn Woods' footsteps, and I hope I've made her proud with the progress we have made in our community and for Special Olympics Pennsylvania."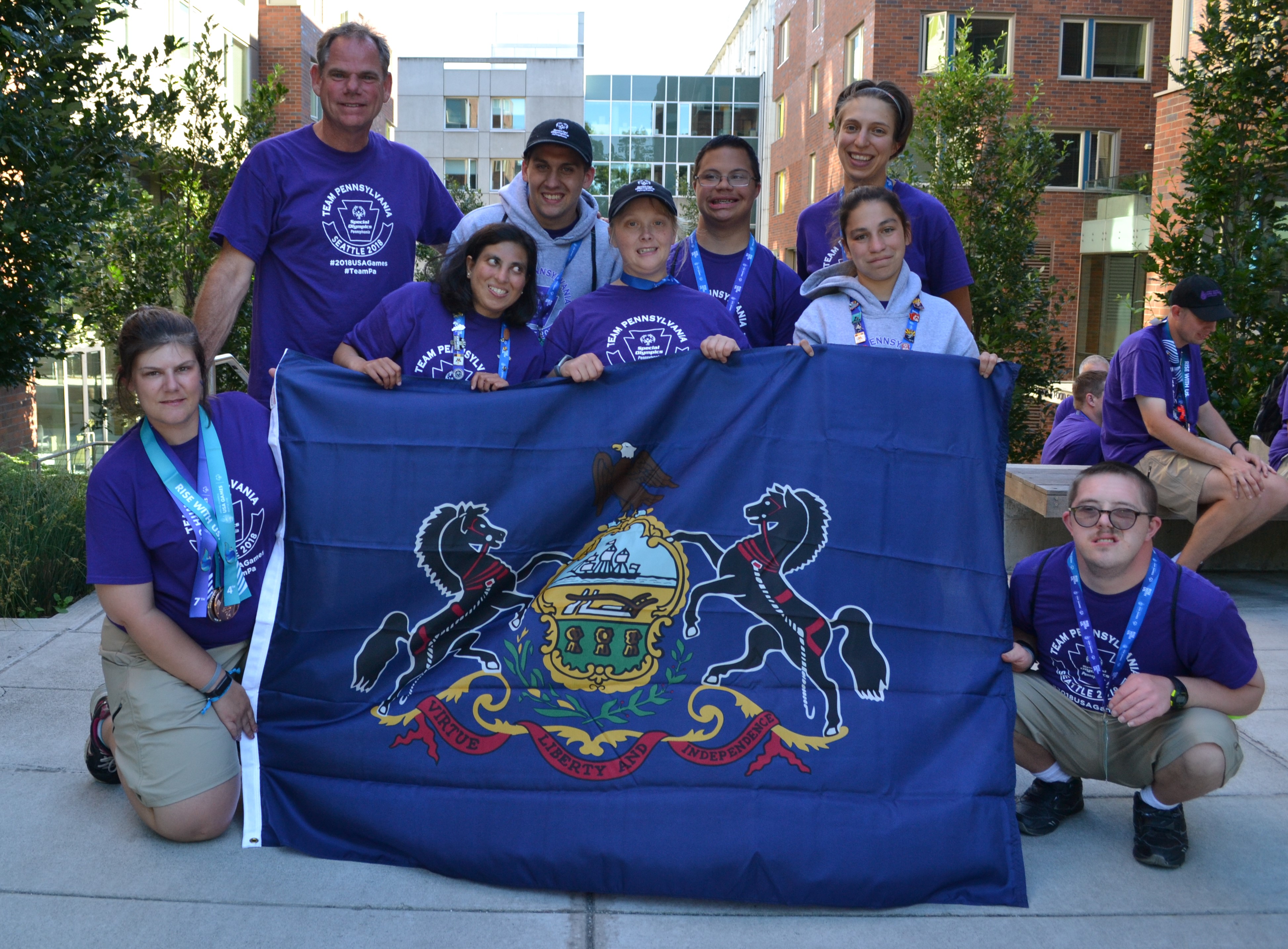 The nominations for Tom were absolutely overwhelming. Here's what soooo many people had to say about our latest Volunteer of the Month:
"There is no greater asset to Special Olympics than Tom Delaney. Tom is always willing to go an extra mile for his athletes and coaches. Always smiling. Always happy to share his knowledge and love of the sport. Absolutely an amazing human being."
Lisa Rigefsky
"Tom goes above and beyond every single day for all of his athletes. He spends countless hours, preparing and including everyone of our most vulnerable in the community."
Mary Griffin
"Tom always goes above and beyond for each and every athlete. He's completely dedicated and committed to all of the athletes. He's truly an incredible coach."
Sharon DeNucci
"Tom is the epitome of above and beyond. He spends countless hours with these athletes supporting and encouraging them. He genuinely has a heart for what he does and it is demonstrated in the way his athletes show up every day ready to do their best."
Sandra Logan
"He is the best coach ever. I love him. He is proud of us no matter what. He wants the best of me and my team mates."
Maria Dandrea
"Tom is an extremely dedicated person. He goes above and beyond for all of our athletes."
Jen Bell
"Bucks County is so fortunate to have Tom Delaney. His endless energy, kindness and commitment to our athletes can't be matched. He challenges, encourages and celebrates all of their efforts and successes. Tom is truly an incredible coach and person!"
Kevin Grow
"Tom is as selfless as it gets. He's been volunteering for decades"
Mike Haston
"He is patient, encouraging, and willing to go beyond to help."
Dustin Ritzheimer
"Because Tom makes sure all people with ID get involved and makes it fun for athletes to come out for some exercise and socialization. Then he holds some practices that the group comes to that aren't required special Olympics just fun where 10-20 athletes come for additional opportunities to exercise. He basically gives up most of his Saturday and Sunday for the athletes. He takes them to events such as Penn Relays, Broad Street Run, Sesame Place Run, Dashing Through the Lights on top of the Invitational and County and Regional meets. Then spends his own vacation time taking athletes to Villanova and also Penn State. Tom used to do this just for track but also now helps them train for snowshoeing. Aside from Special Olympics I've seen Tom at a business helping a kid fill out a work application for a job. My son was also applying and it's hard for someone with intellectual disabilities. He also runs a special needs dance for over 300 people each month that they look forward to so much. He is coach of the century to me. He could win this award every month"
Joan Ridler