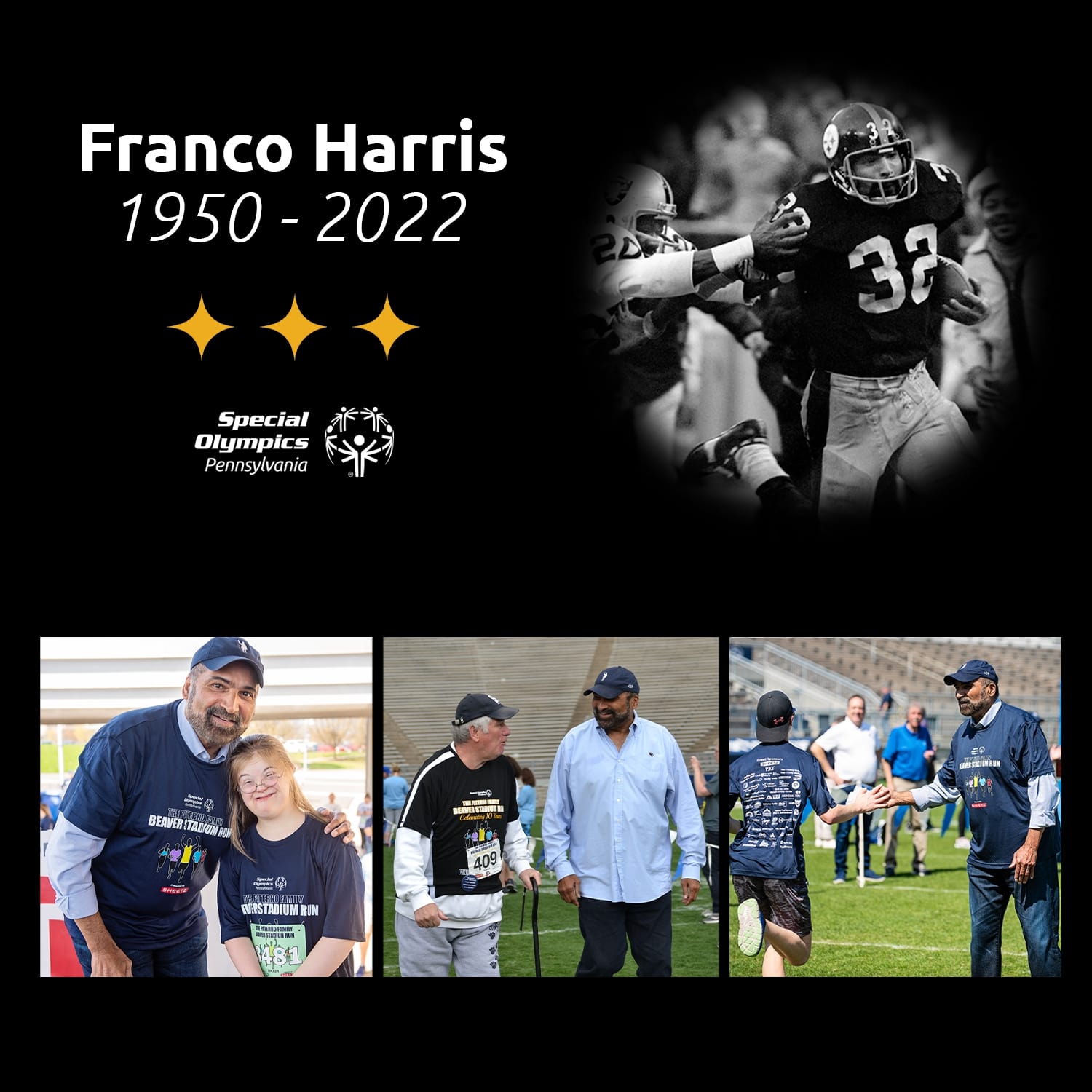 Remebering our friend, Franco Harris
It is with deep sadness that we share that our longtime friend and one of our proudest supporters, Franco Harris has passed away. While many know him for his outstanding career in the National Football League, specifically his time with the Pittsburgh Steelers – during which he was named MVP of Super Bowl IX and later inducted into the Pro Football Hall of Fame – at Special Olympics Pennsylvania, Franco was family.
Franco's passion for uplifting Special Olympics' mission of inclusion and respect never wavered since he first got involved with our organization more than a decade ago. He was a member of Special Olympics Pennsylvania's Executive Advisory Board, has donated considerable financial support, spoken at many special events, volunteered for the organization in and around the Pittsburgh and State College communities, as well as served as the Official Race Starter of the Beaver Stadium Run since its inception in 2010. Additionally, he was the first recipient of the Beaver Stadium Run Community Hero Award in 2013.
Franco's commitment to Special Olympics and our mission spanned far beyond time and financial contributions. His love and passion for sport drove him to share that love with Special Olympics athletes around the state. Franco made a point to congratulate every participant as they "Finish at the Fifty" of Beaver Stadium for the Run, shared countless moments with athletes, and inspired all of us with his grace and kindness.
Franco was a remarkable athlete, businessman, supporter, and friend. His humility, enthusiasm and kindness will truly be missed by all of our athletes, volunteers, staff and event participants. We send our deepest condolences to his wife Dana, his son Dok, the rest of his family, and all those around the world who loved him.