2019 Hall of Fame Inductees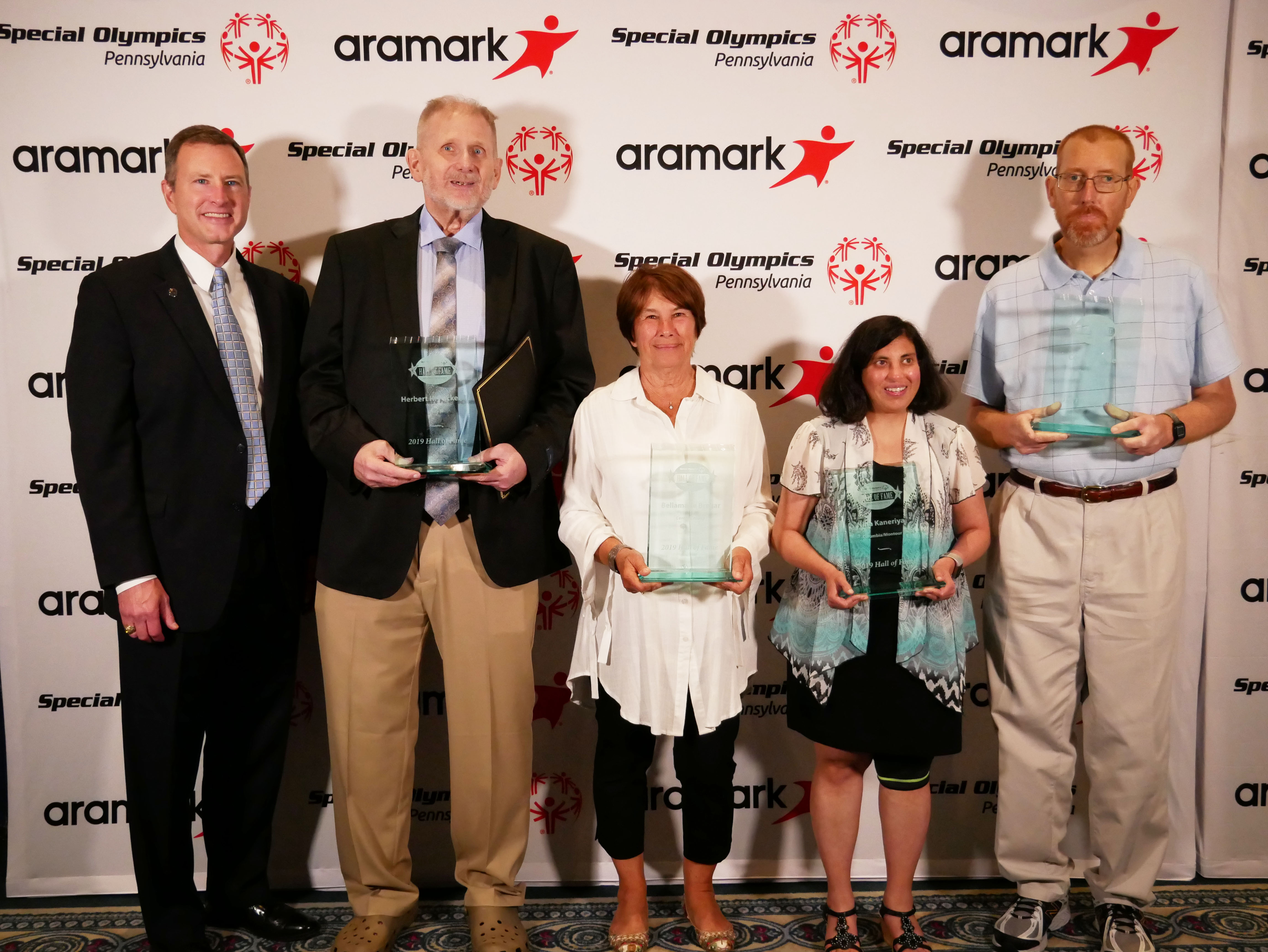 Hall of Fame, which began in 1996, pays tribute to dozens of exceptional athletes and extraordinary volunteers – inductees that have made outstanding contributions both on and off of the field of competition.
There are thousands of success stories of individuals who have benefited from participating in Special Olympics. But, Hall of Fame honors only a few athletes and volunteers who have demonstrated positive integrity and continued loyalty to the Special Olympics program. Both the honored athletes and volunteers must have participated in Special Olympics for a minimum of 10 years. And, a panel of professionals from across the state makes the final selections based on strict criteria.
There is no 'typical' honoree, but hall of famers share a competitive fire to always give their personal best and light up the lives of everyone around them. Hall of Fame is a place to celebrate just a few of the countless stars within the Special Olympics movement. (Pictured above from left to right): Special Olympics PA President & CEO Matt Aaron, Herbert H. Packer III from Area M, Bellamarie Bregar from Centre County, Nina Kaneriya from Columbia/Montour, and Corey Markle from York.
View Leadership Conference Images.

---
Congratulations to our 2019 inductees:
Hall of Fame Athletes:
Corey Markle – York

-

During his 30 years of participation in Special Olympics, Corey has competed in every single sport that York County offers! That's 14 different sports for everyone counting in the audience. He's competed at Summer Games and Fall Fest for more than 15 years and earned a gold medal at the 2014 USA games in New Jersey with his 5v5 soccer team. In addition to being an athletic dynamo, Corey is one of the top fundraisers for the York Polar Plunge year after year. Even though his trophy case is filled with medals, he is not motivated by the reward. Instead, he cares most about his teammates. Three years ago, after frequent bouts of sickness and numerous tests, Corey was diagnosed with cancer. He continued to participate in each sport as much as possible until the time came when he could only sit and watch. When he could no longer participate in bowling, he gave up his spot on the team to ensure that they would be as successful as possible. While poor health has limited Corey's on-field participation, he continues to attend practices regularly and came to this year's Summer Games to cheer on his county. Through everything, Corey has never stopped supporting his teammates and is truly a shining example of exactly what it means to be a Hall of Fame athlete.
Nina Kaneriya - Columbia/Montour

-

In every way imaginable, Nina embodies what it means to be a Special Olympics athlete. Whether it's her incredible accomplishments on the playing field – which, by the way, include trips to the 2006 World Games in China, the 2010 World Games in Greece, and the 2018 USA games in Seattle – or her commitment to athlete leadership, Nina is always ready to contribute to her community. Even when she's not selected to compete at a local, sectional or state event, Nina will attend the competition to cheer on her teammates and wish them well. As the athlete representative on her county's management team, Nina shares important news from the state with her local program to ensure that all athletes and volunteers in her community are informed. Conversely, she recently finished her first term as a member of the regional input council, where Nina helped gather critical information from athletes across the state. Nina is employed at a local medical center where she spreads positive vibes and stories about Special Olympics in the atrium cafeteria. She is an unbelievably dedicated athlete, community leader and kind soul for more than 20 years with Special Olympics.
---
Hall of Fame Volunteers:
Herbert H. Packer III - Area M

-

As the saying goes, ball is life. And for Herb – who has dedicated more than 31 years to bettering the lives of those with intellectual disabilities in Area M – as well as across the state of Pennsylvania – nothing could be truer. After beginning his journey as a volunteer in 1988, Herb became Area M's head basketball coach in 1989 and never looked back. He has since taken on the responsibility of being the basketball sports director for the state of Pennsylvania, among various other roles, and launched multiple basketball fundraisers throughout Area M. The difference Herb has made in the lives of athletes in his community and throughout the state is immeasurable. He has no children in the program but that has not stopped him from being a dedicated and loyal volunteer. He has helped raise hundreds of thousands of dollars for his local program and has spent much of his own money to support the athletes, at one point even printing a newsletter to keep athletes and volunteers informed about what was happening. As his role expanded over time, Herb has worked tirelessly to grow the basketball program throughout the state and took great pride in streamlining the basketball assessments so that all athletes could be evaluated fairly. He has inspired many athletes to realize their potential and many volunteers to join his cause. Quite simply, he has become the volunteer that Area M cannot do without.
Bellamarie Bregar - Centre County

-

If we simply listed all of Bella's accomplishments during her 27 years with Special Olympics Pennsylvania, it would cover several pages. But here's a brief look at the immense impact she has had on her community, her state and beyond. In 1992, she started the Gerry Ryan track meet in memory of a deceased co-manager of Centre County Special Olympics and still runs it to this day. She's served as a ski coach since 1991, is integral in planning the Beaver Stadium Run, and during her time with Special Olympics Pennsylvania has held roles as a local program manager, head of delegation, athlete turned coach mentor, local program outreach coordinator, event coordinator and task force member.

Instead of retiring and spending all her time vacationing, Bella retired and jumped directly into being Centre County's Manager. It doesn't matter what is going on in her life, she makes Special Olympics her priority. Bella has mastered the art of developing connections throughout her circle. That helps set the stage for athletes to improve their lives in school, on the job, on the playing field or in the stands cheering on their favorite Penn State athletes. Despite dealing with a health issue this past year, Bella's commitment to her program hasn't wavered. She's a one-of-a-kind volunteer who brings out the best in our community and our athletes, helping them reach their goals and dreams in Special Olympics as well as their lives.