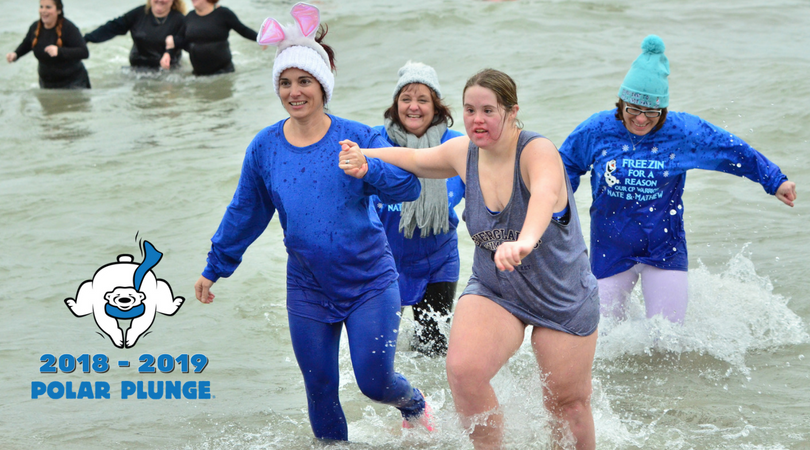 Freezin' for a Reason! Every year, thousands of brave souls take the plunge for our athletes into rivers, lakes, and above ground pools.
The plunges are a great way for everyone – individuals, teams, organizations and businesses – to support the mission of Special Olympics Pennsylvania. All funds raised go towards programming and events for nearly 20,000 athletes statewide.
Get freezin' for a reason! Register for one of our 9 polar plunge events. Registration for a few of our plunges is now open. See below:
November 17, 2018

Presque Isle State Park – Beach #7

#EriePlunge

Check out event photos by The Erie Times News

November 30, 2018

Drexel University, Recreation Center

#PhillyPlunge

January 12, 2019

Bridgewater Landings Marina

404 Brkich Way

Beaver, PA 15009

#BeaverPlunge

January 26, 2019

Neshaminy State Park

3401 State Road

Bensalem, PA 19020

#EasternPlunge

January 26, 2019

Gifford Pinchot State Park - Conewago Day Use Area

1185 Alpine Rd.

Wellsville, PA 17365

#CapitalAreaPlunge

February 2, 2019

Canoe Creek State Park

205 Canoe Creek Rd,

Hollidaysburg, PA 16648

#WGPlunge

February 2, 2019

124 North Front Street

Wrightsville, PA 17368

John Wright Building

#YorkPlunge

February 16, 2019

Scott Park

Larry Holmes Drive & 3rd Street

Easton, PA 18042

#LehighPlunge

February 23, 2019

Heinz Field

100 Art Rooney Avenue

Pittsburgh, PA 15212

#PghPolarPlunge
Visit www.PlungePA.org to learn more, register, sponsor a plunger and more!