News from the Field Department - June 2020
STAFF INTRODUCTION:
GINA REID - Senior Field Director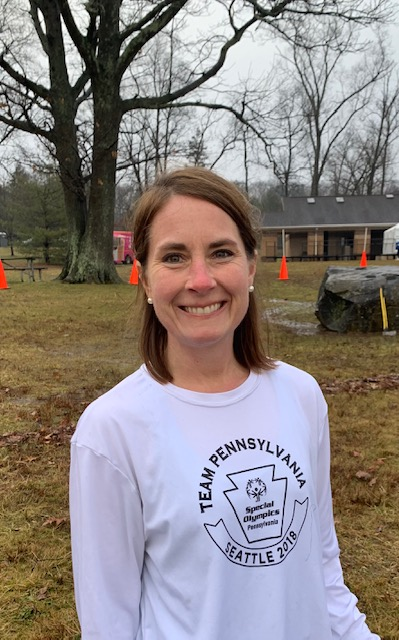 What do you do at SOPA?

I have the privilege of working directly with the local programs from across the state. The thing I love the most is that TOGETHER we get to increase awareness and opportunities for our athletes and promote respect and inclusion in our communities.

What is your background?

(high school, college, sports, family etc.) I am originally from Buffalo, NY - GO BILLS! I have always LOVED sports and played soccer, volleyball, basketball and ran track in high school. I graduated from Allegheny College with a degree in Social Work. My husband John and I met at Allegheny as we both played soccer there. We got married in the College Chapel in 1997. I currently live in Chester County. I have three kids ages 21, 19 and 18 and two dogs - Bella and Buddy.

How did you get involved with SOPA?

My aunt has Down Syndrome and her involvement with Special Olympics was my first exposure to the movement. Prior to joining the SOPA team I worked for the YMCA. We had a great relationship with the Chester County program. In working with that program, I discovered that I wanted to be more involved and knew that this organization and it's mission would be a great fit for me.

What is your favorite memory in Special Olympics?

Being able to attend USA Games in SEATTLE - life changing!

What is your happy place?

I love being outside in nature - ideally at the lake in my kayak! Someday my "home" will be on the lake.

What is something we might not know about you?

In addition to me being a Buffalo Bills fan, my family bleeds black and yellow. We love the Penguins and the Steelers….yep I am on the wrong side of the state to put that in writing!

Who inspires you?

People that treat others with respect, dignity and kindness. Throughout my life I have had lots of people that inspire me….my parents, Jacinda Miller, Oprah Winfrey, Michelle Obama, Ellen DeGeneris. I am inspired by OUR ATHLETES everyday!

How can you help me?

Ask for help and support when you need it. When we work TOGETHER we increase our IMPACT. Please view me and my team as an extension of YOUR team.