News from the Field Department - March 2020
Our Field Note for March directs the Spotlight to a member of Our Team. He is John Brownson from the State College Office and his official title is Local Program Support Coordinator. John is available to support local program volunteers in many phases of administration. He coordinates the Local Program Support Call which helps with topics and education for Management Team members and coaches. John is happy to supply other help as well, including uploading athlete medical forms and more. We asked John a few questions to get to know him better:
What is one thing you are passionate about?
I am passionate about helping people. I love it. Whether it is through my job, within the family or my neighborhood, being there for someone is very rewarding for me.
Who inspires you and why?
My oldest son, Kaleb, who has Down syndrome. As I've watched the battles he has had to face over the last 17 years, he continues to amaze me. Most of us take for granted how easy it is to do things like tie our shoes or run to the grocery store. Kaleb has had to work very hard to learn how to do these tasks and do them safely. It's so inspiring when I get to see him accomplish new goals.
What is a favorite family tradition?
The Saturday before Christmas, my children and I go to the Elks Lodge in neighboring Bellefonte. Along with about 100 people, we put together food baskets for those in need. We then go out and deliver over 100 baskets to these families. The basket contains everything they need for a Christmas dinner.
What do you enjoy doing when not working?
I love to read. Murder/mystery is probably my favorite genre but, I'll read just about anything.
Do you consider yourself to be an introvert or an extrovert?
Yes. Ha ha. I'm definitely a combination of both. I enjoy being out and about with people. I enjoy conversation and interaction but, then I need to be alone. I have to have time by myself in order to "recharge".
Name one thing that you would "un-invent" if you could?
Smartphones! As much as I love having access to pretty much anything at my fingertips, I wish we could go back to the phones that could take decent pictures and text only. I worry about the damage done by people constantly looking at their phone and not paying attention to their loved ones, the world around us and the road they're driving on – both literally and figuratively.
I was born and raised in Centre County. I currently live in State College and work out of the State College office.
What is John's favorite musician or musical group?
I love music! Every type from old school country music to the 80's hair bands and today's rock. If I have to pick just one, it is undoubtedly Patsy Cline. I've actually visited her home and placed a penny at her final resting place in Winchester Va.
What is John's favorite Special Olympics sport?
While I enjoy the sports, it's the athletes that draw me in. Seeing their determination as they compete, and the pride and happiness that shines on their faces during and after each event is priceless.
What is John's favorite memory with Special Olympics?
This may be one of those "you had to be there" moments but, my favorite memory with Special Olympics took place at the Geri Ryan track meet in State College. During the opening ceremony, one student from each school is chosen to recite the SO oath for everyone. My son, who was 9 or 10 at the time, was selected to represent his school this particular year. Typically, Sue Paterno will introduce each of the students and then they recite the oath together. Kaleb was the first athlete to be introduced and as soon as Sue said "Kaleb Brownson", he let go of my hand, marched to the podium, took the microphone from Sue and recited the oath by himself. We all laughed and enjoyed the moment. When he came back to me, he told me what a good job "Joe Pa's wife" had done announcing him. She even "said my name right" he proclaimed. Afterwards, the rest of the athletes were introduced and everyone said the oath together. I kept a better grip on Kaleb's hand for the second round.
So, that's 10 things about John Brownson!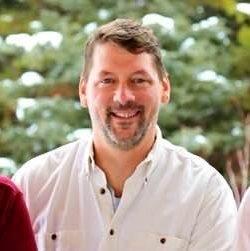 When you see him around tell him hello and welcome him to Special Olympics PA!

As always, your Field Director is here to help with anything you need and to answer any questions you have. Please reach out to us!
Your Field Staff