Ohio Mills Partnership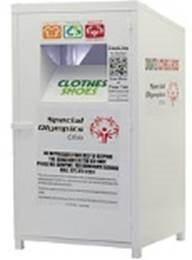 You might have seen some white donation boxes popping up in Western Pennsylvania with a Special Olympics PA logo on them. This is due to a new partnership with Ohio Mills Corp from Cleveland, Ohio. The Ohio Mills Corporation has been in the textile recycling business for over half a century and is proud to have been recycling second hand textiles in fair, reasonable and transparent relationships with various Special Olympics state organizations for nearly 20 years. In addition to Special Olympics PA, current Ohio Mills Corp partners include: Special Olympics Ohio, Indiana, Kentucky and Virginia.
Every year, Ohio Mills purchases and recycles millions of pounds of used clothing that has been donated to Special Olympics organizations throughout 5 states via their donation bins. These donations generate valuable dollars allowing Special Olympics to maintain its programming in local communities.
The initial phase of our partnership with Ohio Mills Corp will be focused in southwestern Pennsylvania with additional markets around Pennsylvania added in the coming months and years.