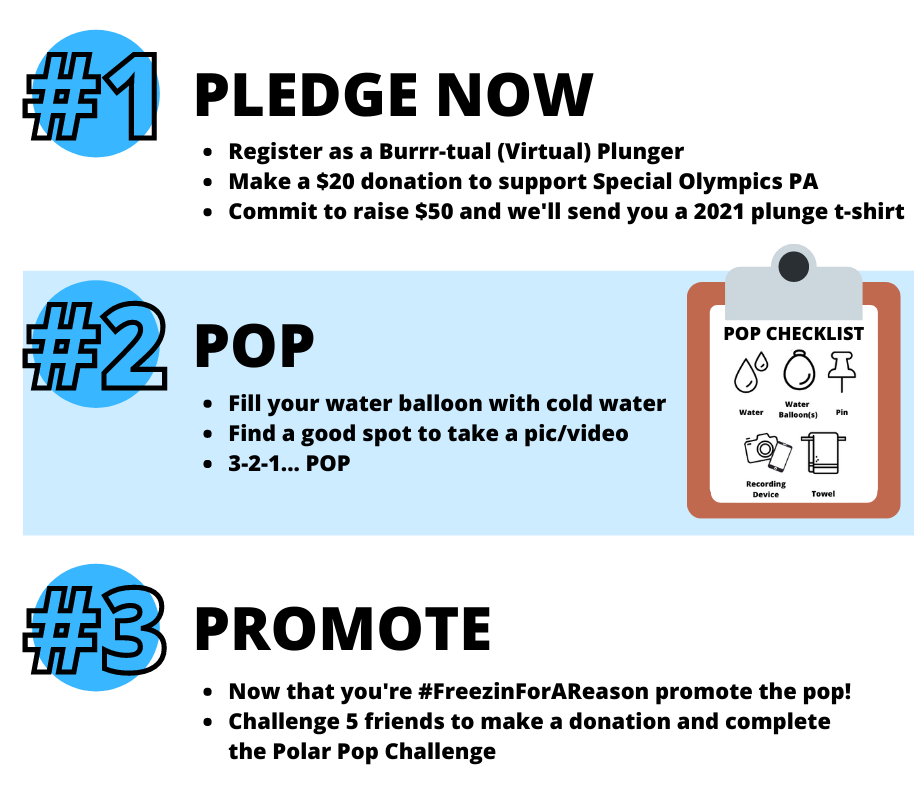 Ready…Set…POP!
Review the below Polar Pop Checklist and more information about how to Pop!

---
#1:

Find Your Perfect Video/Photo Spot
#2:

Get Your Items Ready
Fill your water balloon, grab a person to record the moment, have a towel handy, and be sure to print out and hold up an "I Plunge For" sign.
#3:

POP!!!
Pop that water balloon! You or a family member pops it over your head. Make sure you count down so the person taking a photo knows when to click!
#4:

Dry Off

Dry off and get ready to review your pop!
#5:

Share Your Pop!
Upload your video/photos to our Dropbox by February 21st to be included in the Plunge Celebration.


Share your video/photo to social and challenge others! Don't forget to use #FreezinForAReason #PAPolarPop

Help us to spread the word! Challenge five others to make a donation and complete the Polar Pop with you.
Check out our Facebook Event page!
An Important Caution: You MUST exercise caution and personal responsibility in your Polar Pop activities! Special Olympics Pennsylvania cannot identify or control the risks of every activity.
Be smart, be safe, and be careful – for you and all who join you in your Polar Pop activity. Please follow all safety and COVID-19 protocols. Have fun with it; but above all, BE SAFE.
---