The Special Olympics Pennsylvania (SOPA) Hall of Fame honors athletes and volunteers who have made outstanding contributions both on and off the field of competition. This prestigious event is now held during our annual Leadership Conference and Banquet in State College, PA.
Inductees
We have thousands of success stories of individuals who have benefited from participating in Special Olympics. But each year we choose only a few athletes and volunteers who have demonstrated positive integrity and continued loyalty to the Special Olympics program, thereby upholding the honor of the organization.
The athletes who are honored must have participated in Special Olympics for a minimum of 10 years. They must have illustrated skill growth in a specific sport, exhibited outstanding sportsmanship, and recruited eligible athletes into the Special Olympics program. Likewise, all volunteers must meet strict requirements, including 10 years of ongoing involvement in Special Olympics, participation at various levels (such as coaching, games management), and the active recruitment of athletes and volunteers.
A panel of professionals from across the state makes the selections based on these criteria.
Hall of Fame History
There is no typical Special Olympics athlete. They are young and old, from across town and across the world. They do, however, share one important character trait: a competitive fire to do their personal best. This fire is so intense that it lights up the lives of everyone around them.
That's why SOPA established the Hall of Fame in 1996: to share with a larger audience the inspiring stories of individuals who had heard "you can't do it," all through their lives - but proved that they could once they were given a chance.
SOPA has never-ending stories of personal courage on the part of its athletes and selfless giving by its volunteers. The Hall of Fame is a place for SOPA to celebrate its many deserving stars.
Hall of Fame is now a biennially event (held every other year) in conjunction with our Leadership Conference.
Click here to see our complete list of Hall of Famers since 1996!
2019 Hall of Fame Award Recipients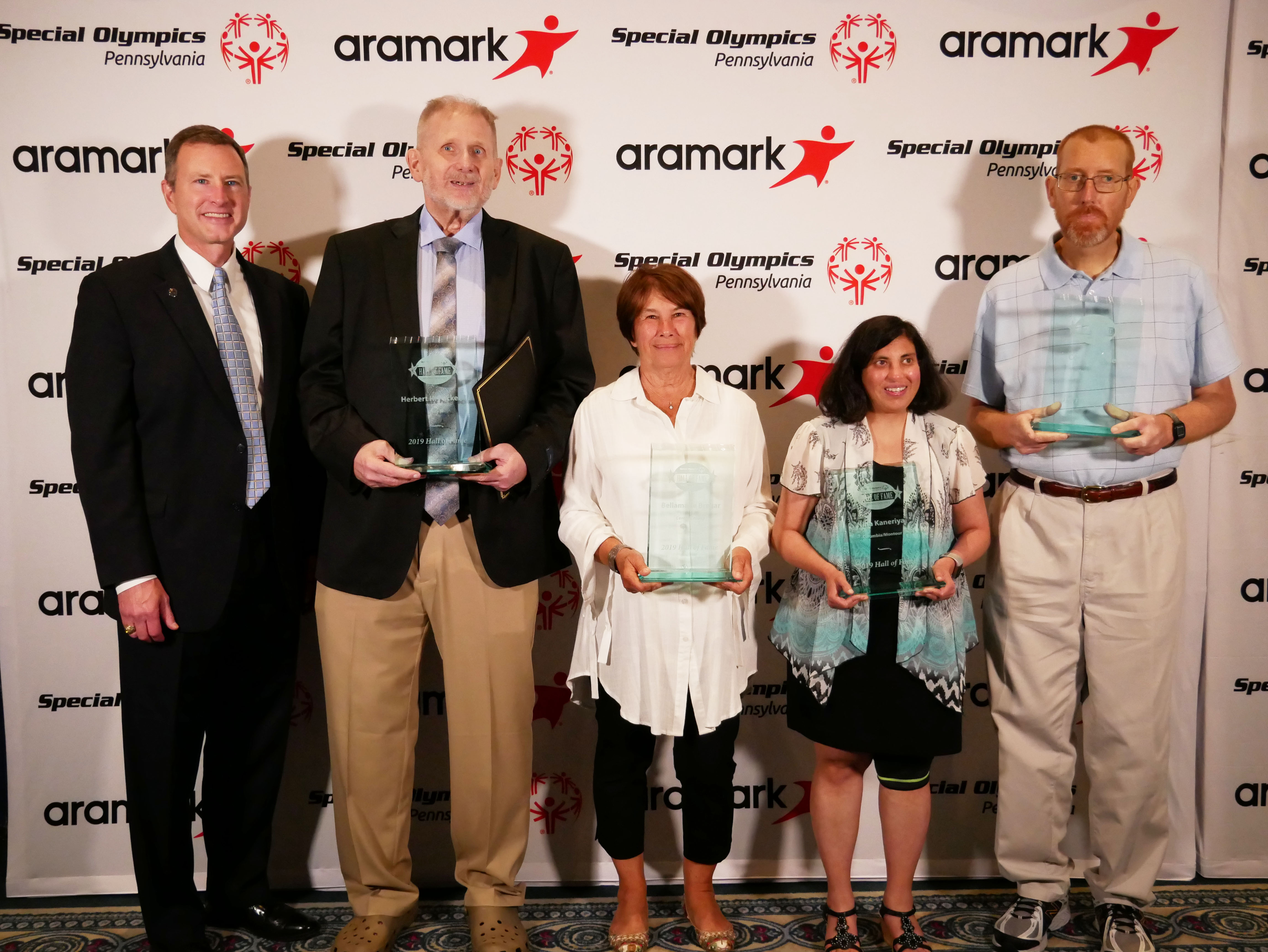 The 2019 Special Olympics Pennsylvania Leadership Conference was held on Saturday, August 17th and Sunday, August 18th at The Penn Stater Hotel and Conference Center in State College, PA. The Conference is the one occasion each year when all of our key leaders come together to network, share ideas, learn, and honor each other through Annual Leadership and Biennial Hall of Fame (10+ years of service) awards. (Pictured above from left to right): Special Olympics PA President & CEO Matt Aaron, Herbert H. Packer III from Area M, Bellamarie Bregar from Centre County, Nina Kaneriya from Columbia/Montour, and Corey Markle from York.
View Leadership Conference Images.
2019 Biennial Hall of Fame Award Recipients
Hall of Fame Athletes
Corey Markle – York County

Nina Kaneriya - Columbia/Montour Counties

Hall of Fame Volunteers
Herbert H. Packer III - Area M

Bellamarie Bregar - Centre County