In March of each year, Special Olympics Pennsylvania welcomes more than 300 athletes and 100 coaches to Wingate, PA to face off in some fast-paced competition during the State Floor Hockey Tournament. This two day competition in team and individual skills floor hockey is normally held the first or second weekend of March. Team competition offers preliminary, pool play and final rounds. Individual skills have preliminary and final rounds.
Spectators are welcome to visit any of the competition venues and cheer on the athletes.
The 2017 State Floor Hockey Tournament will be held from March 4 - 5 at Bald Eagle Area High School.
2016 Event Recap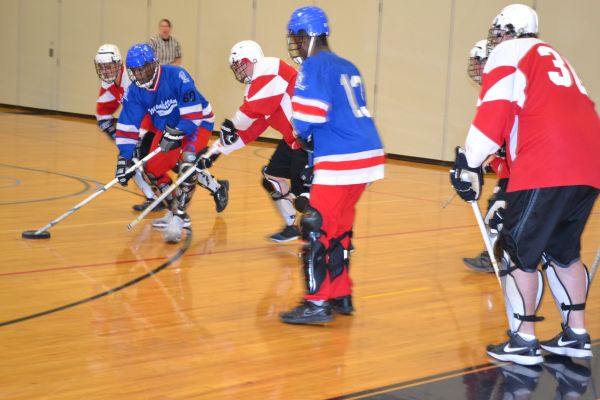 More than 370 athletes and 137 coaches from 20 Pennsylvania programs - plus the states of New York and Virginia - participated in some fast-paced competition during Special Olympics PA's 10th Annual State Floor Hockey Tournament on March 5th and 6th at Bald Eagle Area High School.
Weeks of hard work and dedication in training was rewarded as athletes were cheered on and supported during competition by more than 100 enthusiastic volunteers. The event required volunteers from the Bald Eagle Area High School (BEA) and other surrounding area schools to serve as officials, athlete escorts, award presenters, and in various other ways.
Opening Ceremonies took place at BEA that included athlete speakers, musical performances, the lighting of the Olympics Cauldron, and special guest Glen G.T. Thompson, U.S. Representative for Pennsylvania's 5th Congressional District, who read a proclamation celebrating the event's 10th year.
Click here to view WTAJ-TV's coverage of our event.