The Fall Festival is hosted and organized by Villanova University students and is the largest annual student-run Special Olympics event in the world. For one weekend each year, Villanova University opens its campus up to over 1,000 athletes, 400 coaches, and 2,000 volunteers from the Villanova Student Body, surrounding community, and corporations. The athletes who participate in the Fall Festival compete in a total of six Olympic-type sports including bocce, long distance running, power-lifting, roller skating, soccer and volleyball. However, sporting events are just a small component of the overall weekend. Villanova's campus is transformed into an athlete's wonderland, incorporating Opening Ceremonies; a parade; Healthy Athlete screenings; an Olympic Town offering face painting, food and fun; a Victory Dance; and Closing Ceremonies. There is no charge to participate in the Fall Festival or in any other Special Olympics event. All housing and meals for the weekend are provided by Villanova University and Special Olympics Pennsylvania.
The event requires 2,000 volunteers from the Villanova University student body, corporate organizations and the surrounding community.
Spectators are encouraged to visit any of the competition venues on or near campus and cheer on athletes at Special Olympics Pennsylvania's second largest event of the year.
Fall Festival will be held from November 2 - 4, 2018.
---
Fall Festival 2017!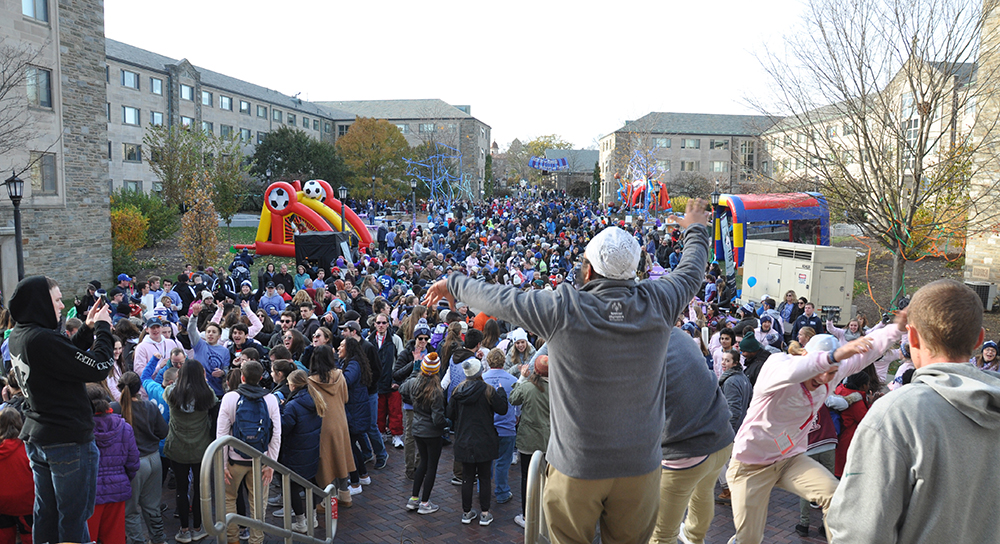 Congratulations to the approximately 1,200 coaches, athletes and Unified Partners representing 40 Pennsylvania county programs who competed in bocce, long distance running/walking, powerlifting, roller skating, soccer, and volleyball during our 29th Annual Fall Festival at Villanova University from November 10-12, 2017. Events took place on Villanova's campus, The Agnes Irwin School, The Shipley School and Marple Sports Arena.
Villanova took guests on an "Adventure through Time" with a campus-wide theme that celebrated Special Olympics' timeless victories. A Unified Fall Festival Torch Run kicked the weekend off at Citizens Bank Park in Philadelphia followed by Opening Ceremonies in Villanova Stadium. In addition, the weekend offered Healthy Athletes® screenings; an "Olympic Town" festival providing athlete activities in-between sporting events; a Victory Dance; and Closing Ceremonies.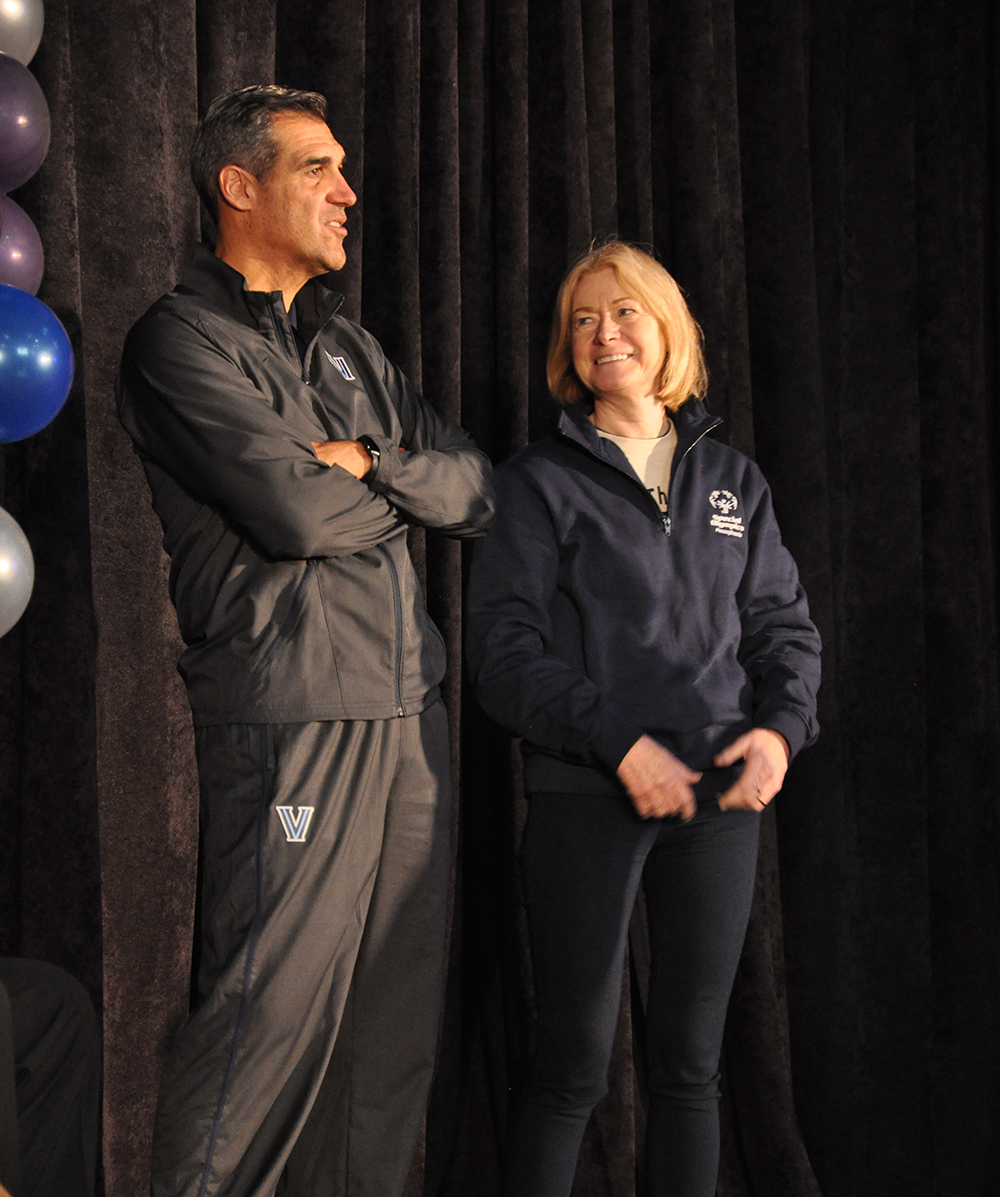 This year's Closing Ceremonies featured appearances by Special Olympics CEO Mary Davis, Villanova Coach Jay Wright, 'Spread the Word to End the Word' Co-Founder Soeren Palumbo, and drawings for the 2018 Special Olympics USA Games and 2019 Special Olympics World Summer Games.
Visit our USA Games and World Games pages for athlete selection results.
Special Olympics Pennsylvania's (SOPA) Fall Festival is regarded as the largest university student-run Special Olympics event in the world led by Villanova University's Special Olympics Committee that assists SOPA in the event organization. The University also donates all of its facilities and serves as the event's principle volunteer base under the leadership of this year's director Hannah Durnin, a student who served as Finance Assistant and Fundraising Chair in the past. Durnin oversaw the over 100-person student committee.
More than 6,000 volunteers from the Villanova student body and the surrounding community participated in the event this year, serving in numerous capacities including as officials, athlete escorts, award presenters, administrative support services, and to cheer on the athletes.
CLICK HERE TO VIEW EVENT IMAGES
Check Out Some of Our Event Media Coverage & Articles:
Delaware County Daily Times (Media Partner)
The Villanovan
NBC 10
The Reading Eagle
Borden's Blog
Villanova Athletics
Salus University
---
2017 Fall Festival Achievement Award of Valor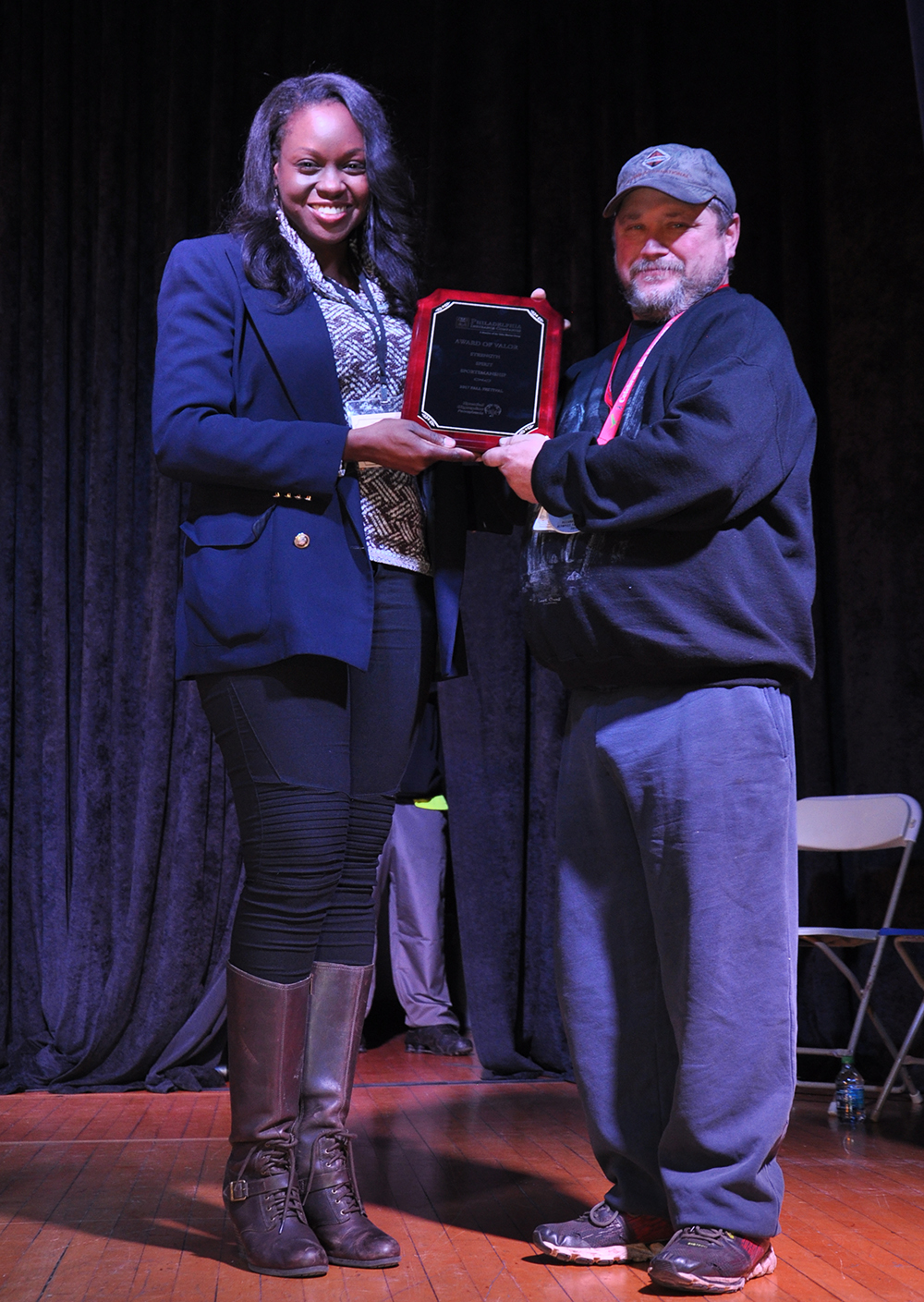 Award of Valor recipient, Ronald Smith from Clinton County, pictured above with Special Olympics PA Marketing Communications Manager Wenona Sutton.
The Fall Festival Achievement Award, presented by Philadelphia Insurance, was awarded to Ronald Smith from Clinton County. The Award recognizes an athlete who may not necessarily win a medal at the Festival, but their effort, determination and sportsmanship is award-winning and inspirational. During the Fall Festival Victory Dance, we recognized the power of the human spirit to overcome challenges and to inspire greatness.
Ronald has been a part of Special Olympics Pennsylvania for the past 12 years. He has played not only volleyball (his Fall Festival sport) but softball and floor hockey as well.
He is a great asset to his local program and knows his sports inside and out. Ronald takes the lead in helping younger athletes that have joined his team to work on their sports skills; and, he also does wonders to make them feel welcomed.
Our award recipient is dedicated to his team, has been known to leave work early to make practices, and takes time out of his evenings to participate in meetings as his program's Athlete Representative – – voicing concerns on behalf of his fellow athletes.
If anyone ever needs a smile, Ronald is the guy to go to because he always has a joke to tell. Congratulations!
Special Thanks to Our 2017 Fall Festival Sponsors