The spark that became today's Special Olympics movement ignited at the first 1968 International Summer Games in Chicago, IL. Five decades later, the movement returned to Chicago to celebrate its 50th anniversary from July 17 - 21.
Festivities included the first-ever Special Olympics Unified Cup soccer tournament; a star-studded Global Day of Inclusion; a Law Enforcement Torch Run Commemorative Run and the ceremonial lighting of the Special Olympics Eternal Flame of Hope; and a star-studded concert including Chance the Rapper, Usher, Jason Mraz, O.A.R., Smoky Robinson and more.
Join our movement as we launch into the next 50 years of the Inclusion Revolution and begin the countdown to Special Olympics Pennsylvania's very own 50th Anniversary celebrations in 2020!
Take the Inclusion Revolution Pledge and #ChooseToInclude.
The Eternal Flame of Hope
Our very own York County athlete and Special Olympics Chief Inspiration Officer, Loretta Claiborne (pictured above), participated in the Commemorative Run to light the eternal flame.
Featuring a custom design by renowned sculptor Richard Hunt, the Eternal Flame of Hope monument will welcome millions of visitors each year to its prominent location at the main entrance of the Museum Campus and Soldier Field, where the first Games were held back in 1968. The sculpture rises 30 feet into the air and features an eternal flame, burning perpetually to honor athletes past, present and future as a symbol of hope and inclusivity.
Additionally, it was announced that the road by Soldier Field will be renamed Special Olympics Drive!
Light Up For Inclusion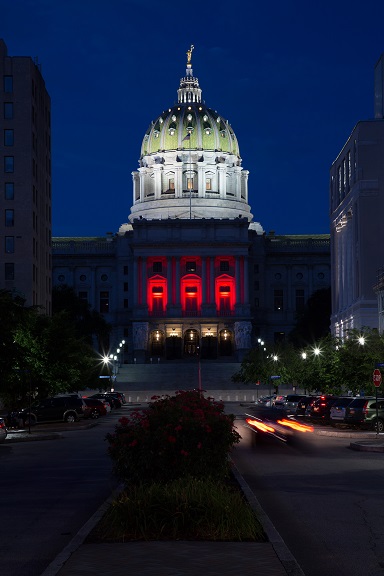 Major landmarks, stadia and iconic buildings around the world, including the Pennsylvania State Capitol, turned RED in a global display of unity on July 20th as part of the Special Olympics 50th Anniversary Celebration.
The act represented the dawn of the Inclusion Revolution – Special Olympics' mission to end discrimination against people with intellectual disabilities (ID) worldwide and create inclusive communities.
In addition to the Pennsylvania State Capitol, more than 200 landmarks worldwide participated in the Light Up for Inclusion initiative, creating a global display of tolerance, respect and celebration of difference.
Browse the full list of Light Up for Inclusion landmarks here.