Congratulations to our Biennial Hall of Fame & Annual Leadership Award recipients!
The 2017 Special Olympics Pennsylvania Leadership Conference was held on Saturday, August 26th and Sunday, August 27th at The Penn Stater Hotel and Conference Center in State College, PA. The Conference is the one occasion each year when all of our key leaders come together to network, share ideas, learn, and honor each other through Annual Leadership and Biennial Hall of Fame (10+ years of service) awards. Pictured above from left to right are our Hall of Fame Award recipients: Special Olympics PA President, Matt Aaron; Joan Arrowood, Lawrence Rupert; Andrew Mayer; Amanda Reiss; and Special Olympics PA Board Chairman, Tony Gilespie. Click here to view more event photos.
2017 Biennial Hall of Fame Award Recipients:
Amanda Reiss, Bethlehem City – Athlete
Lawrence Rupert, Clinton County – Volunteer
Joan Arrowood, Bucks County – Volunteer
Andrew Mayer, Washington County – Athlete
Click here to learn more about the history of Hall of Fame.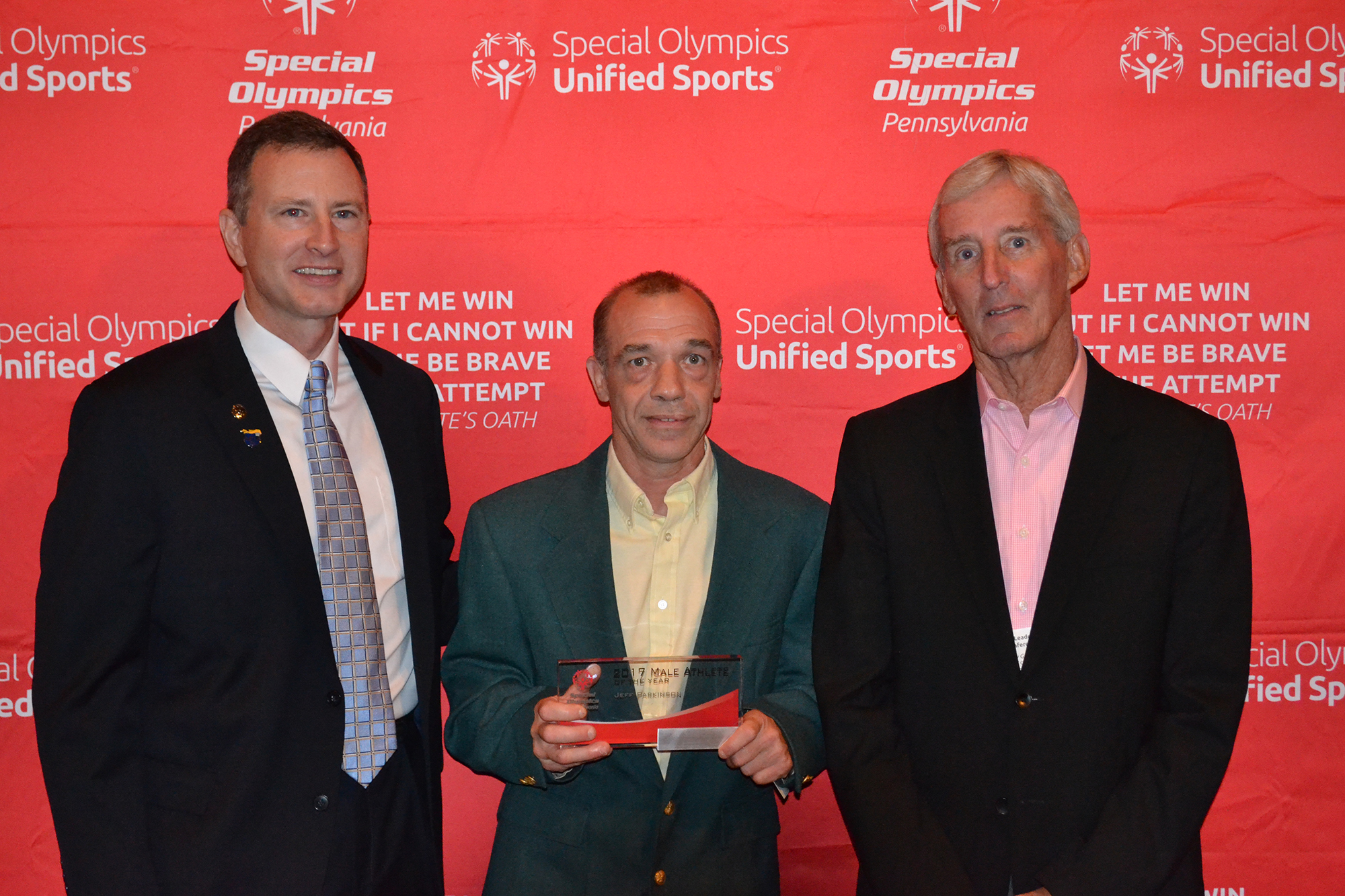 Pictured above: Female and Male Athletes of the Year, Bobbi Jo Rhen and Jeff Parkinson pose for photos with Special Olympics PA President Matt Aaron and Board Chair Tony Gilespie. Click here to view more event photos.
2017 Annual Leadership Award Recipients:
Coach of the Year – Fran Brett, Montgomery County
Female Athlete of the Year – Bobbi Jo Rhen, Lebanon County
Male Athlete of the Year – Jeff Parkinson, Northumberland and Snyder Counties
Manager of the Year – Terry Stickles, Adams County
Volunteer of the Year – Dennis Manno, Clinton County
Program of the Year – Northampton County
Torch Award – Bethlehem City