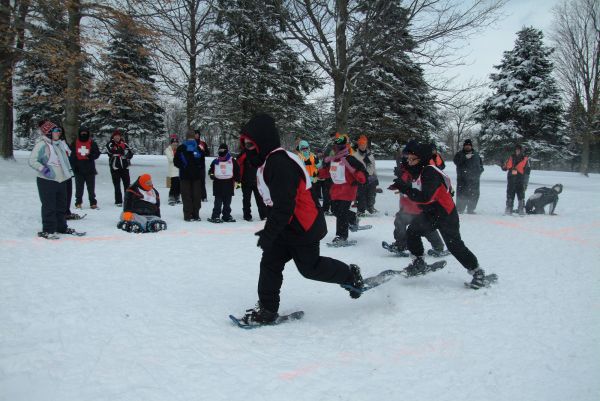 A special thank you is extended to all of the athletes, coaches, volunteers, and members of law enforcement who helped make our 40th Annual Winter Games a success despite the intense wintry weather. Thanks, Seven Springs Mountain Resort and the Kirk Nevin Arenafor being phenomenal hosts and to our media partners for their continued coverage.
Athletes competed from January 29-31, 2017. #PAWinterGames
Continuing with tradition, hundreds of athletes, coaches, families, and friends representing all corners of Pennsylvania participated in SOPA's third-largest state-wide event, the Winter Games. During the course of the event, more than 350 athletes and 130 coaches participated in three days of exciting winter sports – competing in alpine and cross-country skiing, speed skating, snowshoeing and individual skills events. Weeks of hard work and dedication in training was rewarded as athletes were cheered on and supported during competition by more than 1,200 enthusiastic volunteers. This event required volunteers from around the state to serve as officials, athlete escorts, award presenters, and in various other ways. Spectators were welcome to visit any of the competition venues and cheer on the athletes.

Check Out Winter Games Photos Uploaded Daily by Photography by Dane!
Click here for more information and Winter Games Results.

---
Second Annual Winter Games Unified Sports Experience
The Unified Snowshoeing Relay Challenge invited President's Welcome Reception guests to "Play Unified" with our Bethlehem City athletes.
Pictured from left to right Bethlehem City athletes and President's Welcome Reception guests: Laurie Serwinski (Policy, Government and Public Affair Rep, Chevron), Kathy Kucey, Lou Crocco (Managing Director, The KSA Group), Nick Ruffner (Public Relations Manager, Sheetz, Inc.), Jerry Taggert (Director of Sales, Seven Springs Mountain Resort), Hayden Kleppe, Kim Frain, Nathan Boyle, James Ciocco (Port Authority Police), Brian Smith, C. Shannon Berry (Associate Vice President, Financial Advisor at Morgan Stanley), Christina Saraceno, Stephen Stout, Jordan Conigliaro (WJAC-TV Sports Director), and Adam Sheetz (Director of Operations, Sheetz, Inc.).
Not Pictured: Bethlehem City athlete Amanda Reiss
---
Check Out Our Event Media Coverage
Tribune Democrat (Media Partner)
WTAJ-TV
Tribune-Review
The Daily American