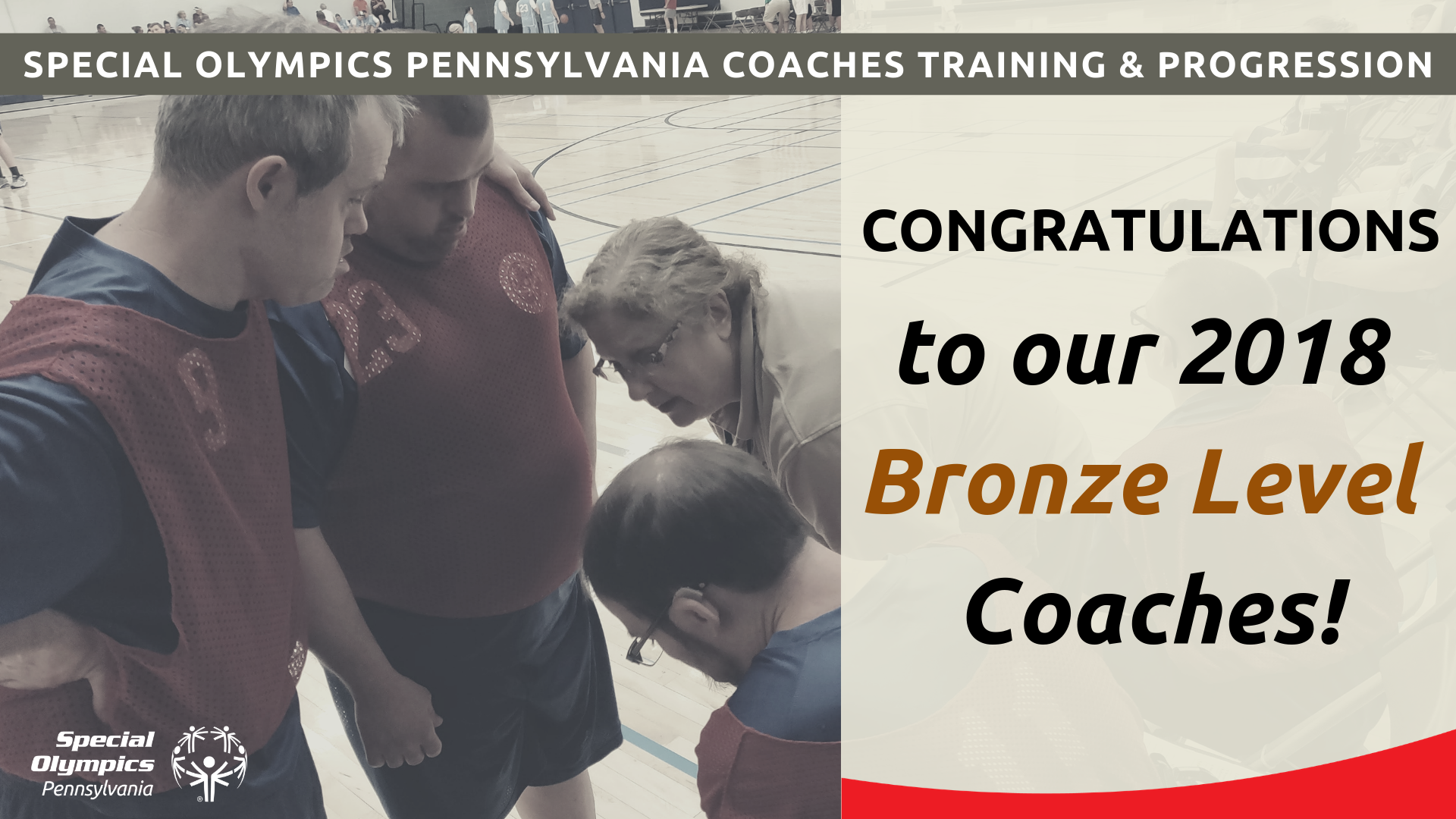 Congratulations to our 2018 Bronze Level Coaches!
In an effort to challenge our coaches, both new and seasoned members of our team, a new Special Olympics PA Coach Training and Progression Plan was created to provide them with the opportunity for additional education and new skills.
Our first class of Bronze Level Coaches completed their training prior to our Annual Leadership Conference held in State College, PA at the end of August.
Inaugural Class of Bronze Level Coaches:
Amanda Sechrist – Northampton – Floor Hockey
Cynthia Walther – Bucks – Swimming
Janelle Pemberton – Northampton – Alpine
Linda Lechner – Northampton – Equestrian
LuAnn Shive – Northampton – Equestrian
Pam Magnan – Bethlehem – Swimming
Scott Otterbein – Montgomery – LDR/W
Maryellen Brown – Area M – Floor Hockey
Fred Knauss – Bethlehem – Swimming
Our Bronze Level progression provides the next level of training as a complement to the basic Certified Coach Level. The course includes "Coaching Special Olympics Athletes" and requires the implementation of "Fit 5" during athlete training sessions.
The Silver Level builds upon the Bronze Level and includes the "Principles of Coaching" and "Coaching Unified Sports" courses, as well as athlete goal setting and year round training. The Gold Level builds further upon the Silver level, and coaches learn advanced tactics for their sport of choice and work with their athletes on tracking and achieving their personal best performance goals.
Are You A Bronze, Silver or Gold Level Coach?
For more information, view our informational flyer or contact Jennifer Tresp, Training & Unified Sports Director, at This email address is being protected from spambots. You need JavaScript enabled to view it..