* Download our organizational brochure(low resolution) here!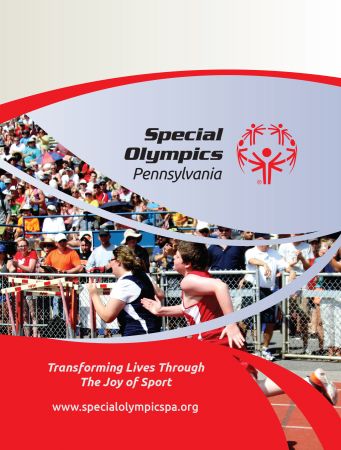 * View our 2016 – 2020 Strategic Plan here.
* View our Fact Sheet and Organization Snapshot.
About SOPA
Special Olympics is a global movement that unleashes the human spirit through the transformative power and joy of sport, every day around the world. Through sports, health, education and community programming, Special Olympics is tackling inactivity, intolerance, isolation and injustice that people throughout the world face, especially people with intellectual disabilities.
The athletes of Special Olympics -- nearly 20,000 strong here in Pennsylvania -- are constant reminders of all that is right with the human spirit.
The mission of Special Olympics PA is to provide year-round sports training and competition in a variety of Olympic-type sports for children and adults with intellectual disabilities, giving them continuing opportunities to develop physical fitness, demonstrate courage, experience joy, and participate in a sharing of gifts, skills, and friendship with their families, other Special Olympics athletes, and the community.
All training and competition opportunities are provided free of charge to the athletes and their families, enabling everyone to experience the benefits of Special Olympics that extend well beyond the playing field.
Special Olympics was created by the Joseph P. Kennedy, Jr. Foundation. Special Olympics Pennsylvania (SOPA) is authorized and accredited by Special Olympics Inc. for the benefit of persons with intellectual disabilities.
Our Vision and Goals
Special Olympics envisions a world where people with intellectual disabilities lead healthy, vibrant lives grounded in ongoing sports and physical activities, sound nutrition and a deeply held commitment to improve, compete, achieve and demonstrate their personal bests to themselves and their communities.
Special Olympics envisions a world where people with intellectual disabilities – and their families -- know the best ways to optimize their health and well-being. We want to make sure that accessible information, resources, systems and policies exist at the individual, community, national and global levels that support them in realizing healthy and productive lives.
Special Olympics envisions a world in which people with intellectual disabilities are leaders in engendering and sustaining acceptance and respect within schools and communities. We do this through Special Olympics' inclusive sports, fitness and youth activation programs.
History of SOPA
Although 187 Pennsylvania athletes participated in the Mid-Atlantic Invitational in Maryland in 1969, Special Olympics Pennsylvania (SOPA) did not become an official chapter until it hosted its own competition. SOPA officially came into being in May 1970 with a track and field event at West ChesterUniversity. Organized by two volunteer directors, Dr. Ed Norris and Hank Goodwin from West Chester's Physical Education Department, and funded by a grant from the Department of Special Education in Harrisburg, this first official competition had 135 participants.
Two familiar names in SOPA history played a role in this event: Loretta Claiborne, one of Pennsylvania's most acclaimed athletes, participated; and Al Senavitis, SOPA's former Chairman of the Board, served as a timer. The occasion was also marked by a Proclamation from then-Governor Raymond Shafer, who designated May 24 - 30, 1970, as Special Olympics Week in Pennsylvania.
Throughout the 1970s, SOPA evolved under the directorial guidance of Joseph N. Lantzer; and in 1978, a significant milestone occurred with the appointment of Frank Dean as the organization's first paid Executive Director. As the organization increased in size, competitions moved around the state, with various colleges serving as hosts, including Cheyney, Slippery Rock, and EdinboroUniversities.
The organization grew rapidly through the 1980s as staff was added and local programs began holding events across the state.
SOPA now trains nearly 20,000 athletes who participate in 21 Olympic-type sports and three emerging sports at more than 260 local, sectional, and state level competitions.
Origins of Special Olympics
The movement known worldwide as Special Olympics began simply as the idea of one extraordinary woman with extraordinary vision. Eunice Kennedy Shriver believed that people with intellectual disabilities were far more capable in sports and physical activities than many experts thought.
And so, the world's largest amateur sports organization began as a day camp in the backyard of Eunice and Sargent Shriver. It has been growing ever since.
Mrs. Shriver organized the first International Special Olympics Games in 1968. Held at Chicago's Soldier Field, the event consisted of 1,000 athletes from 26 states and Canada competing in track and field, swimming, and floor hockey. Now, you will see that the growth has been spectacular – more than 3.1 million athletes training and competing in more than 170 countries and more than 750,000 volunteers and 300,000 coaches. Athletes now compete in more than 20 Olympic-type sports.
Throughout its history, Special Olympics has remained committed to high-quality training and high levels of sportsmanship. This commitment has earned us the right to use the word "Olympics" in our title -- the only sports organization authorized by the International Olympics Committee to do so.