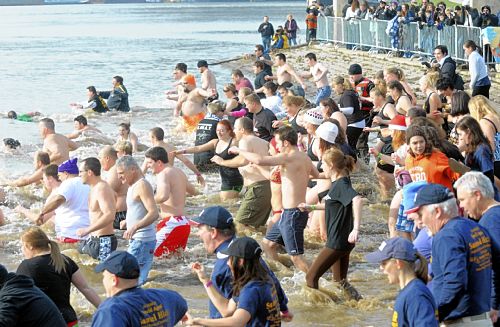 The 2016 Pittsburgh Polar Plunge & Festival weekend took place December 9 – 10 at Stage AE in Pittsburgh, PA. Randy Baumann from 102.5 WDVE and Bob McLaughlin from 105.9 The X returned this year to host the festivities which welcomed nearly 900 plungers and raised approximately $335,000.
The two-day event kicked-off on December 9th with a Super Plunge, Happy Hour Plunge and Friday Night Splash party followed by a dip in either the Ohio River or icy cold pools at Stage AE on December 10th. The Pittsburgh Polar Plunge & Festival also offered activities and entertainment for families to enjoy including free food and warm beverages, unified sports activities, indoor and outdoor games for the entire family, and so much more.
2016 Pittsburgh Polar Plunge Weekend:
SUPER PLUNGE

-

A group of 16 brave men and woman plunged into a cold pool of water more than twenty-four times, over the course of a 12 hour period.

In addition to the 16 Super Plungers, three local Interscholastic Unified Sports (IUS) "Cool Schools" participated throughout the day, including Fox Chapel Senior High School, Central Catholic, and Norwin High School.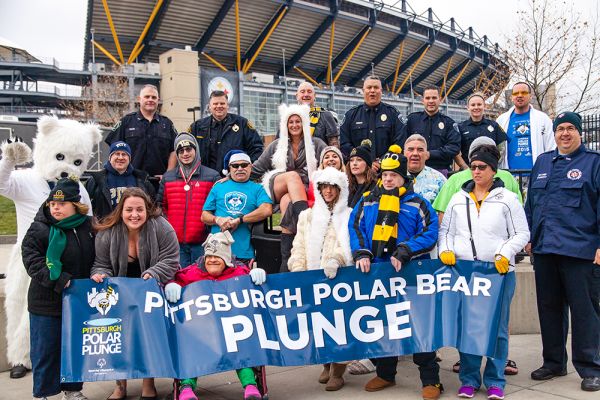 HAPPY HOUR PLUNGE

-

Ten plungers took the leap into an icy cold pool in front of their co-workers and friends during the first-ever annual Happy Hour Plunge. Happy Hour Plungers tossed their suit jackets and left their briefcases at the office to show their colleagues, business peers and the community how charitable and brave they were.
FRIDAY NIGHT SPLASH

-

Party-goers witnessed the last Super Plunge of the evening

mixed and mingled, enjoyed refreshments, danced to live and local music, and bid on great auction items.

KDKA TV2's Heather Abraham

served as the emcee this year as SOPA honoured Sam's Club with the 2016 Flame Award.
PITTSBURGH POLAR PLUNGE

at Stage AE –

The program kicked off with Randy Baumann from WDVE and Bob McLaughlin from WXDX at 11:00am. All plunge day activities took place at Stage AE.

Food and refreshments, indoor and outdoor games and activities, music by the Clintones, and more was available for families to enjoy in the morning while waiting for friends and family to take a dip in the cold Ohio River or pools provided by Pool City.

PLUNGE POST PARTY!

–

All Plungers were welcomed to join the post Polar Plunge Party at Tequila Cowboy where drink specials and bull riding benefited Special Olympics PA!
Special thanks to our Polar Plunge Partners: Law Enforcement Torch Run for Special Olympics PA; Aerotek; Pitt Ohio; Geico; Highmark; Mack Truck; Transedge Truck Centers; Lanxess; i+iconUSA; and JB Fay.
Special thanks also to our very good friends from Oolaa Designs for yet another round of amazing images where 100% of proceeds from the purchase of prints will be donated back to Special Olympics PA. Click here to view and purchase.

Check Out Our Event News Coverage:
Tribune-Review
Hundreds take Pittsburgh Polar Plunge into Ohio River for Special Olympics
WPXI
Pittsburghers raise money for Special Olympics with 2016 Polar Plunge
Pittsburgh Post-Gazette
Pittsburgh Polar Plunge raises funds for Special Olympics
KDKA
Pittsburgh Polar Plunge Raises Money For Special Olympics