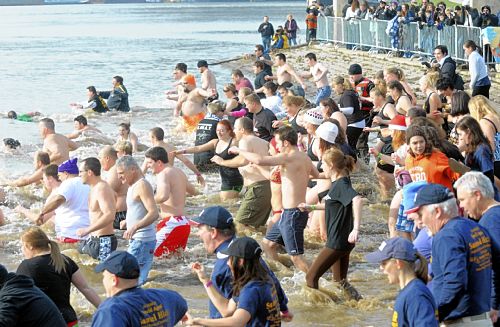 Save-the-Date! The 2016 Pittsburgh Polar Plunge will be held on Saturday, December 10th.
2015 Pittsburgh Polar Plunge Weekend!
The 2015 Pittsburgh Polar Plunge weekend benefitting Special Olympics Pennsylvania (SOPA) took place on December 11 – 12, 2015, raising more than $350,000. The two-day event featured a Friday Night Splash Party followed by a dip in the Allegheny River on Saturday morning. More than 1,000 brave souls jumped into the cool waters and were "freezin' for a reason" in support of nearly 20,000 Special Olympics athletes. Presented by Aerotek and Sheetz, the Plunge had activities and entertainment for families to enjoy including, free food and entertainment, unified sports, games for the entire family, a "Seven Springs" experience tent, and much more. Picture Courtesy of Ben Petchel.
A Super Plunge, sponsored by Calgon Carbon, was held on Friday in Station Square at Bessemer Court, behind the Hard Rock Café and featured a group of 21 brave men and woman who plunged into a cold pool of water, twenty-four times, over the course of a 12 hour period. Thanks to their tireless efforts, these amazing Super Plungers raised over $66,000 for SOPA. In addition, The Pittsburgh Pirates joined the event with their annual winter CARE-a-van to cheer on the Super Plungers. Pirates Players also acted as judges for all dives, and Pirates Coaches provided suggestions to all divers.
The Friday Night Splash Party hosted 250 of our closest friends for refreshments, live music, and an auction. Fireside events and DJ Eric Burnett helped get things underway for a great night, and KDKA TV's Heather Abraham served as emcee as we honored Pitt Ohio with the 2015 Flame Award.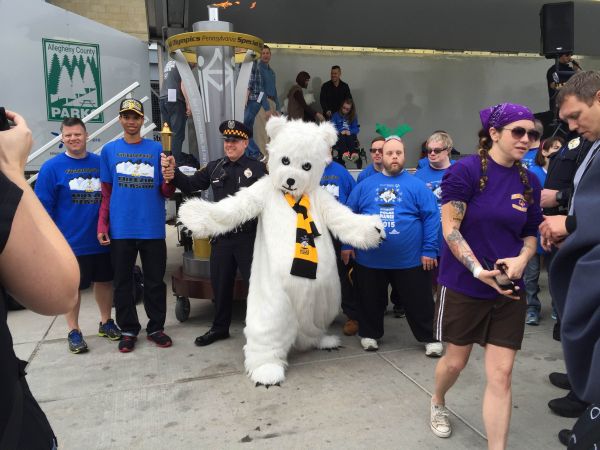 On Saturday the main event took place at Heinz Field with WDVE's Randy Baumann leading the DVE Plunge Team and WXDX's Bob McLaughlin leading the X Plunge Team. While the plungers took on the cold river, family and friends enjoyed the expanded Plunge Town! Games, free food and refreshments, music, chilli cook-off, and more were available; and plungers and guests alike were able to see all of the action from two positioned "jumbotrons."
Click here to view event news coverage.
View Pittsburgh Plunge Video Recaps: