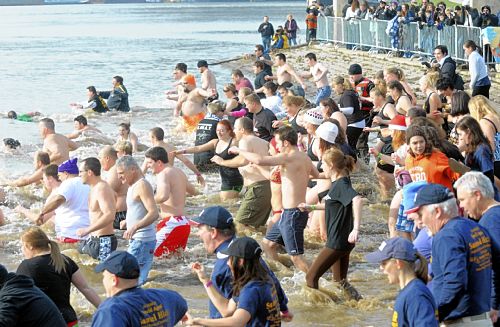 Save-the-Date! The 2016 Pittsburgh Polar Plunge will be held on Saturday, December 10th. #PghPolarPlunge
Online registration will close on Wednesday, December 7th at 9pm. We welcome day of registrations at Stage AE, on Saturday, December 10th, from 9am – 11am. Please note that anyone registering past the December 7th deadline is not guaranteed a spot with a team they wish to join and will be added to a day of plunge wave if space is not available. No exceptions.
Stage AE will be performing bag checks for all Plungers and guests. Outside food and beverage is not allowed inside Stage AE and must be thrown away or returned to your vehicle prior to entering. This includes water bottles, cups with liquids and any outside food (packaged or not).
We will have lots of food, hot chocolate and coffee inside and waiting for all Plungers and guests! Please visit our Plunge Resource page for a full list of Plunge Do's and Don'ts.
Quick Guide to the 2016 Pittsburgh Polar Plunge:
Registration: Saturday, December 10th from 9am – 11am inside Stage AE. Please enter through the main gates on the corner of North Shore Dr. & Chuck Knoll Dr.
Parking: Free parking will be available in Gold Lot 1
Bags and Outside Beverages: Are not allowed inside the gates of Stage AE. Please be prepared to have your bags checked when entering on Saturday. All outside food and beverages must be thrown out prior to entering.
Pool Plungers:
River Plungers:
Will gather inside the Stage AE gates near the pools. Plungers should find their plunge wave leaders, who will be holding signs, and when directed, follow wave leaders to the river plunging site.

Plungers who are not with their waves will be directed to plunge with a different wave. Please ensure you are inside the gates by 11am. ALL waves will depart at 11:30am.
Changing Tents:
ALL POOL Plungers will use the changing tents inside Stage AE. Wristbands will be checked.

ALL RIVER Plungers will use the changing tents by the rivers edge, as in years past.
---
Schedule of Activities and Events:
Friday December 9th – Stage AE Outdoor Stage - 9:00 am
The 2016 Super Plunge - Super Plungers are a rare group, possessing the ability and the desire– to take not one, not two, but 24 teeth chattering, breath catching, you're not gonna be warm until sometime next week, icy cold plunges over 12-hours.
Friday December 9th – Stage AE Outdoor Stage - 5:00 pm
The 2016 Happy Hour Plunge - Start your weekend early and join Special Olympics PA for our all new Happy Hour Plunge. Toss the suit jacket and heels, leave your briefcase at the office. Show your colleagues, business peers and the community how charitable and brave you are by taking an icy dip into our pool, all to benefit the Special Olympics Pennsylvania athletes.

Friday December 9th – Stage AE – Doors Open at 6:00 pm
The 2016 Friday Night Splash Party - Back by popular demand, the Friday Night Splash is the coolest party in Pittsburgh. Good food, good drinks, good people and a swimming pool in December! Tickets are just $50 ... purchase them today!
Saturday December 10th – Stage AE inside and Outside Activities
The 2016 Pittsburgh Polar Plunge and Festival - Plungers commit to "Freezin' for a Reason" and raise a minimum of $50 to dip a toe, wade, or jump on into icy waters. Take your pick: plungers can jump into the icy waters of the Ohio River OR one of our outdoor pools at Stage AE courtesy of Pool City. Spectators can cheer on individuals or teams and enjoy the festive atmosphere and activities surrounding the event.
Follow us for updates on weekend activities!
Facebook Events #PghPolarPlunge @ PghPolarPlunge