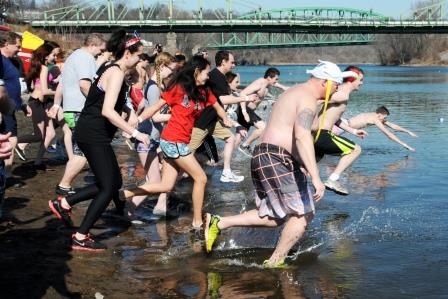 The 2018 Lehigh Valley Polar Plunge will be held on Saturday, February 17th. #LehighPlunge
The Lehigh Valley Polar Plunge is one of 9 Special Olympics PA plunges that will take place cross the state this winter to raise money and build awareness of our programs that enrich the lives of nearly 20,000 athletes across Pennsylvania. Through Special Olympics, athletes with intellectual disabilities have access to free medical screenings and opportunities to socialize, build long-lasting friendships, become leaders, gain self-confidence and so much more.
Looks who's coming to the Plunge! Morning-drive hosts from WZZO 95.1 FM!
How Can You Support Us?
Plunger: Will you be one of the brave who dips a toe, wades, or fully submerges in the icy cold waters of the Delaware River?
Too Chicken: Is the thought of plunging just too much to bear, but you still want to join in the fun?
Cool Schools: Challenge other school groups to raise the most money and earn ultimate bragging rights! Register for free and raise at least $35.
Super Plunger: Are you up for the challenge of staying up all night and plunging every hour into a pool of freezing cold water?
Can't join us? Consider donating to your favorite "Plunger" or "Too Chicken!" Donate Now!
The 2018 Super Plunge will take place on Friday, February 16th at the Grand Eastonian Hotel & Suites, starting at noon.